From Smirking Chimp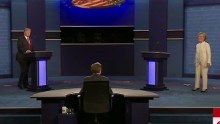 "No, you're the puppet!"
Well, that was grueling. How did the third and final debate manage to be so sensationalistic and yet at the same time so boring? It seemed to go on forever.
The media declared that Donald Trump lost the debate the moment he refused to promise he'd accept the election outcome, saying "I will keep you in suspense, okay?" But they couched their outrage in the warm, soft glow of insular self-satisfaction. There are deep problems with our democracy, and with the journalistic profession that is supposed to serve it.
Trump's statement wasn't outrageous because it violated Beltway decorum. It was outrageous because it was an incitement to racial hatred. Neither moderator Chris Wallace nor the commentators afterward explored the racist subtext behind it: the notion that people of color, especially in the inner cities, are "stealing" elections through voter fraud.
It is "so important that you watch other communities," Trump told a mostly-white crowd recently, "because we don't want this election stolen from us."
Other communities. We. Us. "Everybody knows what I'm talking about," Trump said. Yes, we do, Donald.
It was surprising to hear reporters say that they'd considered the debate a draw until that moment. That's not grading on a curve. It's grading on a cliff -- the one we're being led over by a political/media complex that treats politics like a game and elections like a half-time show.
It's "demotainment" -- democracy as entertainment -- and what it failed to provide in substance was made up for in a series of stroboscopically flashy moments:
The families that wouldn't shake hands.
The candidates that wouldn't shake hands.
The choice of guests designed to "get into the other candidate's head." (The one that would've thrown me was Trump invitee Wayne Newton. If I were Clinton I'd have spent the entire night worried he might start singing "Danke Schoen.")
Clinton, unable to defend her plan for a Syrian "no-fly zone" hastily pivoting to other topics.
Trump saying, "If we could run our country the way I've run my company ... you would even be proud of it." (That was a lost chance for her to say, "I am proud of it. That's the difference between us.")
"Bad hombres," which sounds like the name of a punk band. (But then, watching Trump's VP pick before the debate, I thought "Mike Pence's Scowl" would make a good punk band name too.)
(Note: You can view every article as one long page if you sign up as an Advocate Member, or higher).