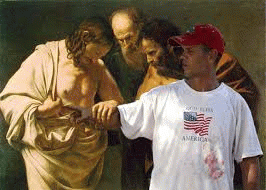 (
Image
by
photobucket.com
)
Details
DMCA
Today's gospel relates the story of "Doubting Thomas." The picture is familiar. The apostles have locked themselves in the Upper Room, cowering in the very place where they recently shared a Last Supper with their beloved Yeshua.
Even in that hallowed space, FEAR is the watchword of their days and nights. The apostles are afraid of the Temple authorities. They're afraid of the Romans. In the light of Judas' betrayal, they might even be afraid of one another.
Then suddenly, Yeshua materializes in their midst. His message: "Why all this fear? Be at peace instead."
Thomas, of course, is absent. When he hears the tale of the risen Master, he refuses to believe.
So Yeshua materializes once again -- this time for Thomas' benefit. As in his first appearance, the risen one identifies himself by his wounds. He makes the doubter probe the gashes with his hand and finger. It's Yeshua's reminder that his peace is based on vulnerability, not on the security of locked doors.
"My God, it is you after all!" Thomas realizes.
"Yes, it is," Yeshua affirms.
Then he turns his attention to us. "Blessed are you," he says across the centuries, "who believe without the proof I've just offered Thomas."
(Note: You can view every article as one long page if you sign up as an Advocate Member, or higher).