Martin Luther King Jr St Paul Campus U MN.
(
Image
by
Wikipedia (commons.wikimedia.org)
)
Details
DMCA
Who Am I to write about MLK Day? Others are far more qualified, like the Freedom Rider Jim Zwerg I met in Washington, DC. I told him I envied him the experience.
Like the Rev. Jesse Jackson, with whom I was also privileged to share space and interact while in DC. The aura was unlike any other I'd experienced. He was simply the most advanced person I had ever met in my life, persisting in his 24/7 activism despite a diagnosis of Parkinson's disease.
Or like Rep. John Lewis, whose book signing I attended. Shaking hands with him was like the same experience I didn't have with the Rev. King but of course would have wanted. Rev. King came alive for me at that moment.
As a high school senior in Atlanta, a hugely bigoted place back then, I glimpsed Rev. King and his wife Coretta Scott King at a department store in Lenox Square. I was dressed in the uniform of a school that had not accepted Dr. King's son's application there, but didn't consider that as I did a double take and gawked in amazement. "Hi," said Ms. Scott breezily. I couldn't move for a while, so amazed.
And I again might have shared space with Ms. Scott at the 40th anniversary rally celebrating Rev. King's I Have a Dream speech in front of the Lincoln Memorial. Only I misread my stage pass as a press pass and promptly climbed the scaffolding with the rest of my colleagues. I did achieve some authentic photography that I'll look for to accompany this story! (The only photo I could find was of the Lincoln Memorial that day at sunset, which I was unable to upload!)
Ultimately, I can write about MLK Day as a witness to rank racism during my childhood and actually throughout my life. And as someone who has achieved dreams as well as fallen short of them. And as someone bitterly disappointed that chances are large that I'll leave this world in far worse condition than the one I was born into. Rev. King died bitterly opposed to the Vietnam War, still battling racism, specifically in Memphis but in reality everywhere in some form or another.
But it seems to me that the greatest tribute I can pay to Dr. King is to reprint my account of the fortieth anniversary tribute to his "I Have a Dream" speech, published in the September 2003 issue of my then hardcopy monthly potpourri Words, UnLtd. (Now a webpage at wordsunltd.com.)
40th Anniversary March on Washington
for Jobs, Peace, & Freedom
August 23, 2003
Steps of the Lincoln Memorial
Sponsored by 100 Organizations, including
NAACP and National Peace Action
by Marta Steele
As Bush and Cheney have left Washington, DC, for August, spending our tax money on their various travels to raise funds for election 2004 when they're not otherwise relaxing, the poor people of this country have moved into the district, having marched there from Mississippi led by Cheri Honkala, founder of the Kensington Welfare Rights League. Let that be an omen of things to come. The midsummer march, the tents by Washington Monument, and on August 23 the Fortieth Anniversary Rally for Jobs, Peace, & Freedom all bring to mind and life the labors of Martin Luther King Jr., the civil rights miracle worker who transformed society in this country and around the world. A further major focus of the rally was the passing of the activist torch from the 1960s generation to their lively hip-hop descendants, confident and inspiring in their enthusiasm and commitment.
Forty years ago on August 28, Doctor King delivered his immortal "I Have a Dream" speech on the steps of the Lincoln Memorial, site of the coalition rally last Saturday, and the point of the one hundred plus organizations was not so much commemoration as the challenges posed by the present reactionary takeover and what we can do to reverse the damage before all of the gains made since 1963 are lost. Now is the time to "walk the walk," as did the 2003 poor people's march. We have "talked the talk" to the fullest extent of eloquence and range our language affords. The next fifteen months are crucial to the future of freedom and equality. Prominent civil rights activists present, addressing the integrated crowd from the steps of the Lincoln Memorial, included Coretta Scott King, Martin Luther King III, Jesse Jackson, Al Sharpton, and Dick Gregory, among others. Also in attendance was the Democratic presidential candidate Howard Dean, though he did not speak. He has scheduled a rally in New York City on Tuesday, August 26, as part of his Sleepless Summer Tour, "a rally to take our country back."
The Reverend Ron Daniels, Executive Director of the Center for Constitutional Rights, began the rally and introduced the three leaders of the hip-hop generation who were key organizers of this rally and to whom would be entrusted future activist endeavors to recover our lost democratic legacy: the Reverend Markel Hutchins, president of National Youth Connection, Inc.; Malika Sanders, president of the 21st Century Youth Leadership Movement, Inc.; and Mark Thompson, human rights activist and WOL radio talk show host. Congresswoman Eleanor Holmes Norton spoke of the need for full state rights for the District of Columbia, in that they pay the same taxes as the rest of us and fight the same wars but suffer inadequate representation.
"We hope you all take home freedom from here, where Congress acts as unelected czars to nullify the local will".Leave us some freedom, too!" she said.
Interfaith invocations were offered by Protestant, Catholic, Jewish, and Muslim clergy. The press that day was well represented, with CSPAN filming and Reuters, TBS, a Japanese station, and a plethora of independents apparent, among others.
The keynote speaker of the day was Martin Luther King III, head, as his father was, of the Southern Christian Leadership Conference (SCLC). He recalled for the crowds that the 1963 March on Washington had been initiated by organized labor, that his father was more than a dreamer; that his immortal eighteen-minute speech dwelled on the "bad check this country gave to the Negro". His dream existed not just in eloquent speaking; he was a man of action; he also walked the walk, from Montgomery to Memphis for civil rights and ultimately human rights," King continued. "His dream was a challenge to the nation he loved".Today we are here to accept that challenge.
"People of color are denied their fair share of education and employment in our society," he said. "There are still incidents of racial violence. We must end oppression in the criminal justice system, end discriminatory persecution, abolish racial profiling and the death penalty; provide social and economic decency for all Americans. Too many people, 44 million, are living under the poverty line. The just community includes all people.
"44 million people have no health insurance," he went on. "And more don't have it to cover serious illness. The White House should cover every person and every illness." King then enumerated further crucial shortcomings of the present administration: "killing and bombing innocent women in the name of instituting freedom and democracy; air and water pollution, crucial health concernspollution that is no great respecter of political boundaries; senior citizens ripped off of retirement assets by corrupt corporations; lesbians and gays still subjected to persecution, discrimination, and violence. "Homophobia, a form of fear and hatred, has no place in this country," he said.
"We have a right to protest unwise economics and unsound foreign politics," continued King. "We should put hundreds of thousands to work to build nonpolluting mass transit systems." He further alluded to the gargantuan debts owed by Latin American countries and the Africans who must pay 30 percent of their national budgets on debt. "The IMF and World Bank should cancel the debts of the poorest nations," he said.
Focusing back on problems in this country, he continued, "A revolution is also needed at the ballot boxes in this country; only 38 percent voted in 2002. True election reform begins with voter turnout." King envisioned a fifteen-month rolling mobilization to register voters to produce the largest possible turnout, increasing the present level by 10 to 15 percent: "create a political earthquake to refocus the government on human needs. He then quoted his father: 'A voteless people is a powerless people.'"
On the issue of women, King noted that although 52 percent of the population comprises women, the ratio of women in Congress is only 14 percent. "The needs of women and children are neglected to subsidize tax cuts. We need more women at the 2004 polls," he continued. "Women shouldn't try to be like men. They should provide a different kind of leadership."
King envisioned "a new birth of a new American and a new world, in which we live together in peace and harmony. God has already blessed America. Now it is time for us to bless God."
King concluded by quoting his father's famous words "Justice will roll down like water and righteousness like a mighty stream." He ended by alluding to a Margaret Mead pronouncement: "The journey begins with a few steps; it takes a few to create change."

"This day would not be possible without Coretta Scott King," continued Malika Sanders. Mrs. King began by recalling, "Forty years ago today I looked around at the largest nonviolent demonstration in history." Today's demonstration she qualified as "the most diverse nonviolent demonstration ever held in the nation's capital."
Having heard her husband quoted by speakers and writers from all over the world, she continued, bemoaning the "bounced check" written to her people, a motif introduced and sustained in the 1963 "I Have a Dream" speech. "We refuse to believe there are insufficient funds in that great vault [read: the U.S. treasury]. We bring the same cries for world peace: 'there can be no peace without justice, no justice without peace.' We must meet physical force with soul force.
"Nonviolence must become the foundation of America's foreign policy," she said. "Let us not be intimidated by those who criticize our dissent. If peace is our goal, then nonviolence must be our way.
"Let us dare to dream of a peace humanity has never known," she concluded. "No hunger, decent shelter, education, and health care. When arms are replaced by renewal, we will light the way to the end of the nightmare of poverty."
Having reminded us of the segregation that still flourished in 1963, now turning to the subject of women's contributions, former Congressman John Lewis, one of the organizers of the historic 1963 march, quoted Kwame Nkruma: "Judge the political maturity of a place by the political maturity of its women."
The national president of NOW, Kim Gandy, next predicted, "We will win in 2004 and all following elections." She deplored the right-wing assault on "the rights we fought for and won: equal educational opportunity, leave to care for sick children, judgment according to ability, not anatomy, protection against hate crimes, and equal pay.
"I'm proud of being left, tired of being left out," she said. "When we get together, we'll turn into a two by four que sí, se puede."
The Reverend Al Sharpton next noted that the bounced check MLK alluded to has "bounced again and is now marked 'stop payment.'" He deplored the $5 billion a month this country spends on Iraq and Afghanistan, "with nothing left for health, education, and state budgets."
He further deplored the "dream busting" policies of the Bush administration: opposing affirmative action, recalling an election, putting "terminators" in office, hiding hatred behind the Ten Commandments. To begin the Exodus into the Promised Landand biblical imagery was apparent in many speeches, as were various biblical and other perspectives on the significance of the number fortywe must "address our burning Bush," said Sharpton. "It stands for Enron and big business, not for labor and children. We didn't come this far to turn around now!"
"Hope was born again in 1963," Rev. Jesse Jackson next informed the crowds. "We cast out fear, we became audacious, and all the world sang 'We Shall Overcome.' Lincoln's promise of emancipation has been broken. Congress broke the promises of the Thirteenth through Fifteenth Amendments.
"More black men are in jail than in college in every state," he continued. "They are racially number one in HIV infection, cancer, school expulsions, and jail. This country has betrayed its allies on its way into war, making them old and irrelevant.
"We must go South today, our zone of challenge," said Jackson. "with the highest concentration of poor people, waste dumps, opposition to labor and civil rights, and hostility to the poor.
"In 2000 we lost South Carolina by 40,000 votes, but 40,000 blacks were unregistered, and lost Georgia by 30,000 votes with 600,000 blacks unregistered. Hands that pick cotton cannot pick presidents. Every election lost is by the margin of unregistered voters."
Walter E. Faudroy, who helped plan the 1983 and 1993 memorial rallies, called the 2003 convocation the "most serious follow-up to the march since 1963. We can't afford a one-day demonstration but a need fifteen-month demonstration starting today and ending November 2, 2004." He recalled the gains produced by earlier activism: the repeal of segregation and the passage of the Civil Rights Act in 1963. He suggested the goal of registering fifty million new voters for election 2004.
"We can do it if we put our minds and hearts to it. Let's give Martin Luther King Jr. a birthday present!" he concluded.
Dick Gregory delivered closing thoughts to end the four-hour rally of thousands that had by then dwindled to a handful, who were treated to a recording of King's immortal speeches as many of us proceeded to review the statue of Lincoln: what a heartening combination of precedents to empower us for the uphill months to come. I turned to a companion and said that the very fact such great heroes had existed was reassurance enough that we were capable of producing more; there was still room for optimism amid the present chaotic situation in Washington and the world.
Copyright © Marta Steele 2003. All rights reserved.
"Happy" MLK Day! A certain reminder of how much we have left to accomplish to cure the world.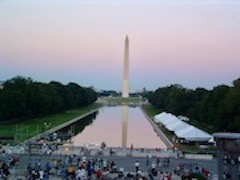 (sunset at the 40th anniversary rally. Note tents at right
(
Image
by
Marta Steele
)
Details
DMCA
(souvenir buttons created for the 40th anniversary commemorative rally)
(
Image
by
Marta Steele
)
Details
DMCA