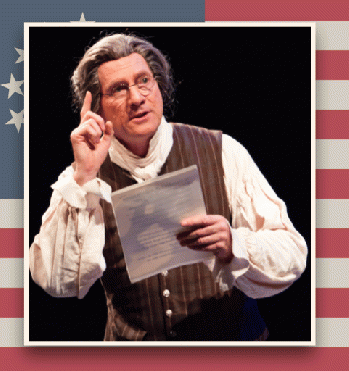 Ian Ruskin as Thomas Paine
(
Image
by
Photo of Ruskin by Tom Dempsey, copyrighted, used with permission
)
Details
DMCA
Thomas Paine's radical voice inspired the first American Revolution and earned the undying appreciation of Gen. George Washington and the rebelling colonists. His words, in his iconic Common Sense and other writings, are just as relevant and inspiring today, and have been brought to life in Thomas Paine's To Begin the World Over Again. The film will air on PBS to approximately 200 million viewers over the July 4th holiday.
Veteran actor Ian Ruskin's extraordinary performance resurrects the passion of Paine and inspires the second American revolution. Elliott Gould narrates.
Ian Ruskin as Thomas Paine in To Begin the World Over Again: The Life of Thomas Paine
(
Image
by
Tom Dempsey, copyrighted, used with permission
)
Details
DMCA
Selected airings are listed below. (If you do not see your area listed, go here, open the "set station" button and enter your zip code or local station. Then open the "schedule" button and go to July 3rd or 4th.) It's always a good idea to check local papers to confirm airings, as dates and times can change.
Other ways to see the video: purchase or rent the DVD here, on Amazon here, and on Vimeo here.
Here's a preview:
Ruskin also wrote the screenplay for Thomas Paine's To Begin the World Over Again (which was renamed for the PBS airing. The DVD title is To Begin the World Over Again: the Life of Thomas Paine) For more info on Paine and the film, see the OEN article, How Thomas Paine Still Fights for the Soul of America.
Watching this film and sharing it with friends may be the most valuable way you can honor and celebrate the birthday of your country.
SELECTED PBS AIRINGS, July 2 through 23, 2017
Ft. Smith AR KAFT-.3: July 3rd, 4th, and 9th
Mountain View AR WKEMV-.3 Plus: July 3rd, 4th, and 9th
Monterey CA KQET-.2 SD: July 2nd
(Note: You can view every article as one long page if you sign up as an Advocate Member, or higher).