(Article changed on January 10, 2014 at 21:52)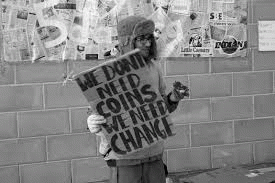 (
Image
by
Google.com
)
Details
DMCA
The monthly employment report was released today by the Bureau of Labor Statistics. Reading from it brought to mind this quote; "Political language is designed to make lies sound truthful and murder respectable, and to give an appearance of solidity to pure wind." ~ George Orwell
The civilian non-institutional population rose by 178,000
The civilian labor force fell by 347,000
The number employed rose by 143,000
The participation rate fell by 0.2%
The "Official" unemployment rate fell to 6.7 percent. It is not just a lie; it is a filthy, shameful lie. It is an affront to the American people. It belittles the plight of the struggling masses and will be used as a platform to undercut the needed resources to assist them. It is a drone strike on the working and the unemployed alike, it is a bullet fired from a calculator. The corporate Wal-mart greeter Obama will take bows and kudos' at the allegedly improving numbers while Americans go hungry in the cold.
The complicit corporate media will only report the head lies leaving room for Paris Hilton or Kardashian stories. They will intentionally omit the uncomfortable details of frozen bodies found in abandoned houses; they're just homeless aren't they? Homeless Americans, ignored by a government which pretends to represent them, to represent us all, but that is another lie, isn't it? So let's stick to one lie at a time.
Unemployed, down this month by 490,000
No longer in the labor force, up this month by 525,000
In an economy barely treading water, subsidized each month, by the direct injection of 75 billion new dollars, if you can't raise the bridge you lower the water.
Unemployed, December, 2012: 12,273,000
Unemployed, December, 2013: 10,351,000
No longer counted in the labor force, 2,427,000 up this month by 331,000
(Note: You can view every article as one long page if you sign up as an Advocate Member, or higher).