Federal hand-outs to the health insurance industry could top $1 trillion in the next five years. Between twenty and fifty percent of that will be saved off the top as net profit.

The handouts are not loans or grants or even tax breaks. They are the product of the Administration's policy supporting auctioning off state Medicaid and federal Medicare contracts to publicly traded, for profit health insurance corporations.

Based on SEC filings for the first three months of 2011, government payments to the top ten for-profit insurers were running around $10.9 billion a month, up ten percent just in the previous six months. Depending on how much fraud is going on, between $1.9 and $5.4 billion of that gets "saved" every month towards corporate profits by the company simply refusing to spend it.

Obama's willingness to concede to cuts in entitlements will probably have little influence on these payouts reaching $1 trillion in the next five years. The White House has given off too many signals in the past six months of its willingness to give private insurers a free hand in how they spend federal funds. The Administration has even gone so far as letting one company off the hook for criminal Medicaid fraud in nine states.

Just as slavery cloaked itself in the myth of the paternalistic landowner, the public war raging today over Medicaid and Medicare is using the myth of the undeserving poor to detract attention from the obscene private profits being generated with public funds.



In reality, the people whose lives are being affected the most are our country's fourteen million children and adults (including the elderly) with disabilities. Two-thirds of the nation's total Medicaid budget is allocated to paying for medical services to keep people with disabilities at home with their families, rather than shutting them up into institutions. More and more of that money is being paid out to companies more responsible to shareholders than policyholders.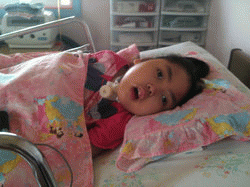 The victims of Medicaid fraud can seldom speak up for themselves

(

Image

by Summer Harrison)

Details DMCA


What the President has auctioned off to big insurers is control over life and death of our society's most vulnerable citizens, including children like Audrey and my own daughter.

The new dandies of Wall Street

Ten health insurance companies control the private Medicaid/Medicare market. Four exist completely on public funding: Amerigroup, Centene, Molina and Wellcare. The other six (Aetna, Coventry, Health Net, Humana, Unitedhealth and Wellpoint) have been replacing lost corporate group business with new Medicaid and Medicare "managed care" policies.



Unitedhealth's quarterly net earnings (three-month profit before taxes) jumped from $505 million for April - June, 2008, to over $2.1 billion in the first three months of 2011. Quarterly commercial premiums were up by only $1 billion, but Medicaid/Medicare quarterly revenues were up by over $4 billion.

At Aetna, commercial revenue is down from 79% of total quarterly premiums to 74%. Its replacement with Medicaid/Medicare government funding, however, has accompanied a 22% increase in quarterly net earnings.

Among the ten, Medicaid membership is up 19%, and the mix of Medicaid and Medicare products is up 33%, from 27.7 million to 36 million policies. Both commercial membership and quarterly commercial revenues are down.

The relationship between the number of new Medicaid enrollees and the revenue they generate for the company is not a straight one to one ratio. Humana and Coventry both reported a loss in Medicaid membership at the same time as an increase in Medicaid revenue. Wellcare had a three percent increase in Medicaid membership generating a 14% increase in Medicaid revenues, and Unitedhealth and Amerigroup both showed almost a three-to-one ratio of Medicaid revenue growth to membership change.

In order to understand why Medicaid (and Medicare) contracts are so lucrative, it is best to start with what one writer has called the insurance industry's "dirty secret."

The "Patient Loss Ratio" and why it's important to Wall Street

When state Medicaid programs are carved up and auctioned off as HMOS to the lowest bidder, they include a rate schedule used to determine a monthly payment per person. The insurer is paid a set amount per month per person, depending on how healthy the person is. For really healthy people, the insurer may get only $400 a month from the government; for a medically fragile child living in a rural area, the company may be getting paid $25,000 a month by the government.

For the publicly traded health insurers winning these contracts, profit derives from the simple difference between how much the government is paying to provide services for each covered individual, and how much the company spends on that person.

In the health industry, it's called the "Medical Loss Ratio": how much is actually spent per individual as a percentage of the total premium paid for that person. Since the term seems to imply that expenses are a corporate loss, the "Patient Loss Ratio" represents how much every policyholder under Medicaid and Medicare is losing of their budget to corporate profits.

For example, a medically fragile child in a rural area who is dependent on technology to breathe and eat might have a monthly budget of $25,000 to pay for equipment and care services at home. That's what the company is paid every month, and it is less than the state would pay if the child was institutionalized. When the company is reporting an MLR of 80%, it means the so-called "managed care plan" has cut twenty percent of the child's services. For instance, the child's life may now be endangered by the loss of 200 hours of home nursing services per month, and the community has lost 1.25 full-time jobs.

Minimum spending requirements for Medicaid contracts are virtually non-existent. In a single case in Florida where a contract required an 80% minimum, all eight insurers were found to have fraudulently padded medical expenses by fourteen to sixty percent (in other words, the patients were losing between 34% and 80% of their budgets to profits).



(Note: You can view every article as one long page if you sign up as an Advocate Member, or higher).