Cross-posted from Media Matters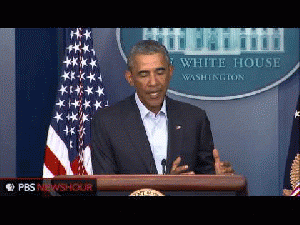 The lament has spread all across the media spectrum this week, as the crisis in Ferguson, Missouri unfolds and people search for answers to the police killing of unarmed teen Michael Brown.
"Obama Should Go To Ferguson, Pronto," urged a Businessweek headline, beseeching the president to fill a leadership vacuum on the ground in Missouri. "Obama, can't you see black anger in Ferguson?" asked Marc Lamont Hill in a CNN essay. Writing at Daily Beast, Stuart Stevens lamented that Obama had "lost faith in his voice in Ferguson"; that he was "increasingly uncomfortable with the role of healer-in-chief," while the Washington Post's Joel Achenbach urged Obama to give another "national address" on race because that's what the crisis demands.
Maureen Dowd's New York Times column today mocks Obama as a "the most ordinary of men" with a "bored-bird-in-a-gilded-cage attitude" who is unwilling to engage with the issue of racial strife.
Most of the do-something commentary has adopted the same premise: Obama could help the Ferguson crisis by giving a speech about race or addressing the situation more forcefully, but he won't. He won't use his powers. (See: The Green Lantern theory that Obama could convince a recalcitrant GOP Congress to pass legislation if he only tried.)
That premise though, and most of the commentary, completely ignores the corrosive role of the right-wing media in America, how it has spent years trying to silence and intimidate Obama on the topic of race, and how it's used some of the most offensive, guttural rhetoric and personal attacks to do so.
Through Obama's two terms, most of the Beltway press has remained strangely silent about the astonishingly ugly race baiting that now passes for mainstream conservative media commentary. That same press corps is now turning a blind eye to the tangible damage that kind of rhetoric has done to public debate, or the chance of public debate, and how the right-wing media has tried to implement a heckler's veto on Obama; to effectively shout him down.
Click Here to Read Whole Article
(Note: You can view every article as one long page if you sign up as an Advocate Member, or higher).