From Consortium News
President Barack Obama addresses the United Nations General Assembly on Sept. 20, 2016.
(
Image
by
(UN Photo)
)
Details
DMCA
For the first time in his eight-year presidency, Barack Obama said no to Israel. When the Security Council voted to condemn Israel for building illegal settlements in occupied Palestinian territories, the Obama administration abstained, allowing the resolution to pass.
Resolution 2334 says the settlements have "no legal validity," calls them "a flagrant violation under international law," and demands Israel "immediately and completely cease all settlement activities."
Although 2334 is consistent with prior resolutions of the council, Israeli Prime Minister Benjamin Netanyahu threw a tantrum, calling the US abstention a "declaration of war." In light of Obama's unwavering enabling of Israel's illegal policies, Netanyahu was likely shocked that Obama finally said no.
The United States, a permanent member of the council, vetoed a resolution in 2011 that would have condemned the building of Israeli settlements in occupied Palestinian territories. And in 2014, the U.S. opposed a draft resolution demanding Israel's withdrawal from the West Bank within three years.
Since 1967, Israel has transferred more than a half million of its own citizens into Palestinian territories, continuing to build settlements in the West Bank and East Jerusalem.
In 2004, the International Court of Justice affirmed that the Palestinian territories are under Israeli occupation and Israel's settlement building violates the Fourth Geneva Convention.
A state occupying territory not its own cannot build settlements on that territory and transfer its own citizens into them. Article 8.2(b)(viii) of the Rome Statute for the International Criminal Court (ICC) defines "the transfer, directly or indirectly, by the Occupying Power of parts of its own civilian population into the territory it occupies" as a war crime.
Israel took over the West Bank, Gaza and East Jerusalem by military force in 1967 and has held it under military occupation ever since.
Like Security Council Resolution 242, passed in 1967, Resolution 2334 reiterates "the inadmissibility of the acquisition of territory by war." Although Resolution 242 called for "withdrawal of Israel armed forces from territories occupied in the recent conflict," Israel continues to occupy the Palestinian territories it acquired in the "Six-Day War."
"Over 4.5 million Palestinians live in these occupied territories, but are not citizens of Israel," Jimmy Carter wrote in the New York Times. "Most live largely under Israeli military rule, and do not vote in Israel's national elections."
Complete Control
Israel exercises complete control over every aspect of Palestinian life in the West Bank, East Jerusalem and Gaza. That includes borders, airspace, ingress and egress of people and goods, and the seashore and waters off the coast of Gaza. The occupation violates fundamental human rights of the Palestinians.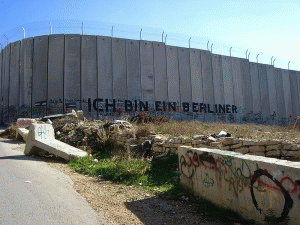 A section of the barrier -- erected by Israeli officials to prevent the passage of Palestinians -- with graffiti using President John F. Kennedy's famous quote when facing the Berlin Wall, 'Ich bin ein Berliner.'
(
Image
by
(Photo credit: Marc Venezia)
)
Details
DMCA
Flavia Pansieri, former U.N. deputy high commissioner for human rights, said last year that human rights violations "fuel and shape the conflict" in the occupied Palestinian territories, adding, "[h]uman rights violations in the West Bank, including East Jerusalem, are both cause and consequence of the military occupation and ongoing violence, in a bitter cyclical process with wider implications for peace and security in the region."
(Note: You can view every article as one long page if you sign up as an Advocate Member, or higher).