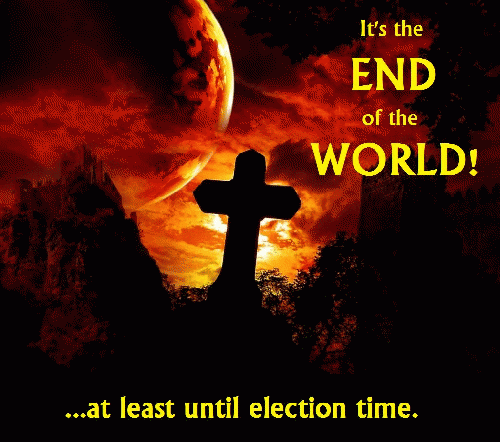 Yep, we're toast
(
Image
by
Google Images w/caption by Rev Dan
)
Details
DMCA
CRAZY LADY USHERS IN THE AGE OF HILARIOUS
It's been said before. We've made a religion out of entertainment and an entertainment out of religion, and no one entertained us more last week than a lady who ranted:
"A huge percent of gay men in school grounds molest boys, partly because they don't have AIDS yet," she said."Hillary Clinton's roommate four years in college was a gay woman. To avoid going gay like Clinton did, college students need single rooms and single gender dorms."
"Jesus was kissed by Judas, a homo, who tried to sabotage Jesus' kind ideas. Do you choose Jesus, a celibate, or Judas, a homo? You have to choose!"
Later, it was discovered that Ms. Svoboda was a certifiable schizophrenic ...and:
Nonetheless, Jane Svoboda is a registered lobbyist at the Capitol, and she usually speaks twice a month during the council's open mic sessions. She also frequents the University of Nebraska-Lincoln campus, where she hands out fliers and is known as the "Crazy Blue Protesting Lady."
Her brother and legal guardian, Patrick Svoboda lamented "that people were not more understanding of her mental illness. Money quote from Patrick: "... she's not some crazy conservative."
Yes, we knew the wingnuts would come out swinging with a vegeance against Barack Obama.
Here's a small list of Headlining quotes:
Manny Pacquiao : "Gay Men Should Be 'Put to Death'"
Pat Robertson : "Obama makes me sick to my stomach"
Pastor Jim Garlow : " Oppposing gay marriage may cost us our lives."
Paul Cameron: "Obama is gay." and "Gays should be imprisoned before they rape kids"
Franklin Graham: "Obama has shaken his fist at God. May God help us!"
Bishop Harry Jackson: " The Enemy wants [marriage equality] to be a legacy, or a seed that is planted in this generation that corrupts, perverts and pollutes...generations to come."
Bryan Fischer: "Obama is toast... just handed the election to Mitt Romney because he favors behavior that will kill you if you don't catch yourself in time"
(Note: You can view every article as one long page if you sign up as an Advocate Member, or higher).