Watching American television reporting the New York primary returns last night made me realize that the concept of winning is crucial to the entire world situation.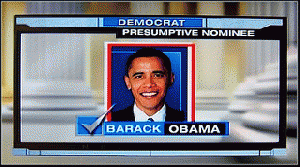 The History Behind Obama
(
Image
by
Tony Fischer Photography
)
Details
DMCA
Although both parties had primaries in New York yesterday, all the attention of the media was on the Republican front-runner, Donald Trump: pundits couldn't stop gushing about his near perfect score, although it had been widely anticipated. They wouldn't have sounded differently had this been an upset. Worse, the two main channels, CNN and MSNBC, labelled the Democratic results 'too early to call' for hours, even though Clinton won by a good twelve points. This was not journalism, but jingoism.
Recent key foreign news revolved around Russian planes buzzing US warships off the Russian coast, allowing Washington to claim Russian aggression: no one mentioned the fact that NATO was holding manouvers with the Poles literally on Russia's doorstep, although every journalism student is taught that who, what, why, where, and how are the key pieces of information any news report should contain.The presentation of last night's election results explains the reason for that crucial failure: American policy is driven by one impetus and one only: "Winning!" From earliest childhood, school children are taught that winning is the most important thing in life, whether it be a math test, football, or school government. When they grow up, they focus only on beating whoever is on another side, for whatever reason, and this is what motivates our foreign policy: as the Neocons affirm: No nation should be allowed to challenge American hegemony. That's about winning.
This morning, both MSNBC and CNN continue to focus on the two now presumptive front runners, Clinton and Trump, as though Bernie Sanders had ceased to exist. It's not that TV anchors don't like Bernie, it's that notwithstanding the huge crowds he draws, he was defeated in his home state, in which independents, many of whom support him, could not vote. If you don't win, you don't count. It's as simple as that: the world moves on and you're gone. Our pundits fail to mention that for months, Bernie has systematically polled higher over Trump than Hillary Clinton, ignoring 'why' his campaign is crucial.
Why is this important? Aside from the fact that Sanders represents the US's last best hope for fundamental change, that meme illustrates the fundamental disparity between the United States and much of the world it aspires to run: for any Washington government, whether Democrat or Republican, winning is the be-all and end-all, both at home and abroad.
For other world powers, winning is viewed as a necessity thrust upon them by factors beyond their control: if you are attacked, you must defend yourself. For Americans, all of life revolves around winning. Toddlers are enrolled in races before they can scarcely walk. Team spirit is crucial because it's necessary to win, not because it embodies elevated moral qualities. And it's this mentality that has finally driven the world to the brink of extinction; not social democracy versus capitalism, but the determination of the world's major military and economic power to win over everyone, at all cost.
Russian President Vladimir Putin and China's Xi Jin Ping see the world differently, as do many other leaders in the parts of the world that the US disparages. Whether because they were recently tribal societies in which cooperation is essential for survival, or because they have a long socialist tradition, they are brought up to value cooperation. In the US, the expression "Play along to get along" doesn't mean cooperating toward a common goal, but strictly in order to get something.
Among the Western media's many sins, worshipping success above all else is certainly one of the most pernicious. In the case of the 2016 election, it could be fatal.