This is the original prepared version of a speech presented by Cathy Garger at the Hiroshima and Nagasaki Peace Commemoration at the WWII Memorial in Washington, DC on August 5, 2008. *
Originally posted at Axis of Logic
To our very special guests from Japan, the Hibakusha, who traveled so far to be with us today, to our guests from the US, I welcome you. I wish to thank the Washington Peace Center for inviting me to come speak to you here today in memory of the tragic and needless - bombings of Hiroshima and Nagasaki.
My name is Cathy Garger. I'm a writer and public speaker, and volunteer with activists around the nation in a group called CORE which stands for Citizens Opposing a Radioactive Environment. Our primary focus is to stop the use of toxic, radioactive weapons in illegal, genocidal acts of aggression against innocent peoples of the world. We educate about the dangers of all forms of radioactive Uranium in our environment - everything from bombs and weapons to nuclear power plant reactors that emit life-destroying radiation into our air and water. I wish to also give special thanks to my friends from Hawaii for their continued inspiration as they fight - with supreme dedication - against continued environmental contamination created by the US military in their occupations throughout the Hawaiian Islands.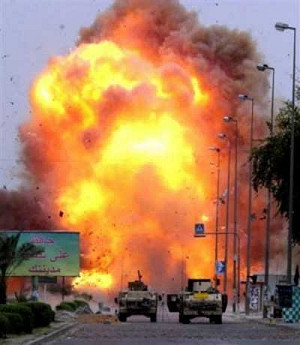 Baghdad - 2007
Today I will be speaking about the US use of Uranium weapons. While nations other than the US do possess these weapons and a few have used them? By and large, the world has the US to thank, as the majority of these radioactive weapons owned and used by other nations have been sold to them by the United States.
With regard to the bombings of Hiroshima and Nagasaki, honestly, I really wish I could say we admit that our government made two horrible, monumental mistakes 3 days apart in August of 1945 and then be able to say, we are so very sorry, and it's all over, and that is that.
Unfortunately, however, if I were to tell you that the radioactive poison gas onslaughts against Japan and the rest of the world ended on August 9, 1945? Then, truly, I would be telling you a rather large lie.
The US ranks first in the world in terms of military spending and arms import - and first in the world in infringing upon the sovereignty and human rights of other nations. You know, we hear so much about the US military using torture, a violation of human rights. But, as bad as torture is? The even bigger violation of human rights we rarely hear mentioned is our Depleted Uranium use or DU our radioactive poisoning of people here at home and around the planet and the wanton contamination of the air, water, and soil upon which we all depend on in order to survive.
The nuclear bombs we started exploding in 1945 - first in the US in New Mexico, and then the two in Japan were very visible with mushroom clouds, shaking the earth even hundreds of miles away. In contrast, the Uranium gas weapons used today are not as visible. And since there's no mushroom cloud, it's hard for some people to believe that the radioactive poison gas is still being used because it is something they can not see.
And our government tells us that our diseases are caused by other chemicals, and they say Uranium weapons are not really all that harmful or hazardous unless you happen to be sitting on top of an exploding armored tank. So many people tend to believe our government. How many after all, even suspect their government would tell a lie or do anything that might harm their own citizens quite knowingly? It's too horrible for many to even fathom and so we are a nation both ignorant and in denial.
So many Americans believe all the lies such as, Uranium munitions are "mildly" or "weakly" radioactive and therefore, don't really pose much of a problem. Any of us who have studied the effects of ionizing radiation, however, recognize this for the lie it truly is.
And so I am here today to tell you the truth. But first, going back to Japan for a moment... in addition to the nuclear bombs of 1945, the US has also used Uranium munitions on the Japanese island, Tori Shima, Okinawa, which has been used as a bombing range for more than half a century.
In the Okinawa area, the US Marine Corps Harrier jets fired over 1,500 DU rounds they said "accidentally which were dumped into the ocean from 1995 to 1996. Mind you, these munitions are clearly marked and required special handling. The use of Uranium weapons is certainly never an accident.
Then in May 2000, hundreds of 25mm DU cartridges were sold to a scrap yard dealer as scrap iron in a drum with the word "uranium" on it! Furthermore, 400,000 DU "bullets" were found at the US Kadena Base in Okinawa in 2001. But even one year prior to that, Okinawans had had just about enough, and at the G8 summit held in July, 2000 nearly 30,000 protesters formed a human chain surrounding the 11-mile perimeter of the Kadena Air Force Base the largest military base in Asia.
But it does not end there. In August, 2004, a US transport helicopter with DU in its blades, believed to be carrying DU munitions - crashed at Okinawa International University. Thirty thousand people protested after this crash. Recently, the world heard our USS Houston nuclear submarine leaked radioactive fluid as these vessels very often do - into Japan's waters when it was docked as Sasebo, Japan. Other places it has leaked include Guam, Hawaii, and the Pacific Ocean.
Military bases occupy about 20 percent of Okinawa and exercises in Okinawa, with live ammunition causing forest fires, soil erosion, earth tremors, and accidents, destroying the natural ecosystems, leaving land barren and filled with ammunition shells, adversely impacting Okinawa's environment for many years to come. Fish are in plentiful supply there tuna, bonito, squid but the fishermen have to sacrifice that area in order to keep their food supply safe. Unfortunately, the health and environment problems regarding the US military's love of radioactive materials seems to have no end in sight.
The United States government is completely and thoroughly addicted to using toxic and radioactive poison gasses that destroy for billions of years - the Earth's environment. These aerosols devastate the health and genetic makeup of all forms of wildlife, and human health, too.
When geo-scientist and atmospheric uranium specialist Leuren Moret was working at the Livermore Laboratory in 1991, she saw fresh environmental samples from Hiroshima and Nagasaki. When she asked why they were still monitoring Hiroshima and Nagasaki, she was told "Because they are still radioactive."
Sadly, the isotopes of Uranium used in the two bombs have half lives of 704 million and 4.5 billion years. When we use Uranium in our weapons? We contaminate the people, nature, and the environment for an eternity.
Ever since July 16, 1945, when we dropped the Trinity Bomb on ourselves in New Mexico, the US government has been continuously using Uranium in the form of nuclear weapons and also in the form of everyday Uranium weapons they call "conventional" weapons. Imagine calling "conventional" weapons that are made from nuclear materials! Used in penetrators, bunker buster bombs, cluster bombs, and missiles used, for example, by our Navy ships, fighter jets, and armored tanks, what some call "Depleted" Uranium, was coined the misleading term on purpose. While these munitions may be reduced in some of the Uranium 235 (just one of the isotopes of Uranium)? DU certainly still packs a hefty dose of ionizing radiation and is not at all depleted in radioactivity!
In fact, Professor Katsuma Yagasaki of the University of the Ryukyus said, "DU shells are atrocious radioactive weapons, which must never be allowed to use." He also stated, "Radioactive weapons commit an impermissible crime scattering radioactive materials in the environment."
In testimony in 2003 at the International War Crimes Tribunal on Afghanistan in Japan, Leuren Moret said, "I realized after only two years at the lab, that the culture of nuclear weapons was a culture of insanity. What species on earth kills its young generation after generation? What species on earth sacrifices its young for the false notion of -security?"
Ms. Moret also stated, "In 1991, in the first Gulf War, the United States broke a 60 year taboo and introduced depleted uranium to the battleground, a radiological weapon which is truly a weapon of indiscriminate killing and mass destruction. Now that we know both, we must ask a question - which is worse, the horrific effects of flash annihilation from an atomic bomb or slow mutilation forever from depleted uranium weapons?"
Professor Yagasaki calculated that the amount of DU the US is believed to have used in the first Gulf War on Iraq is the radiological equivalent of 83,000 Nagasaki bombs.
Later, in March 2004, Yagasaki's calculations yielded DU use in Iraq as the equivalent of 250,000 Nagasaki bombs. Since that was over 4 years ago, conservatively, we've used over one-half million times probably closer to one million times - the amount of radiation in Iraq and Afghanistan that we used on Nagasaki!
DU is even more dangerous to human health over the long run than nuclear bombs!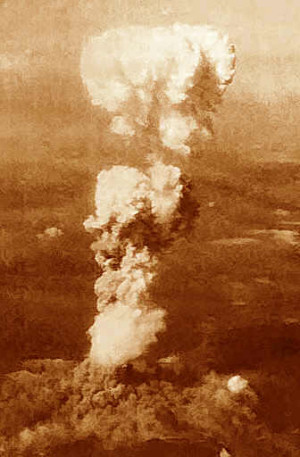 Hiroshima - 1945
Veterans tell us Depleted Uranium was first tested in Vietnam, Cambodia, and Laos. They also say DU was used in Grenada and Panama but no, the US government has not admitted to any of this, at least not as far as I have read. DU was used in Iraq beginning in 1991 in the first Gulf War and continuously to the current day. NATO, led by the US, used DU in the '90s in the Balkans, causing high radiation readings in nearby Albania, Macedonia, Italy, Austria and Hungary. Since October 2001, Uranium munitions have used in Afghanistan. We've also used DU in Somalia, Africa, from the 1990's to present.
In the continents of Europe, Asia, and Africa, we've caused unfathomable pain, suffering, sickness, and death and worst of all? The environmental radiation has resulted in horrendous effects on babies and children. This poison is also used in so-called military "testing" in North America and Australia, too.
Much of what they do is secretive. Not only are they withholding how many tons of DU they've used in these pre-emptive, illegal, barbaric, aggressive acts upon innocent they often deny even using it!
Now I ask you, why would they not tell us all about what they're doing if DU was really as harmless as they say?!
The US military is not sharing how many tons of DU it has used in these pre-emptive, illegal, barbaric, and aggressive acts upon innocents - and it sometimes even denies using these munitions. Yet the Department of Defense budgets allocates monies for DU weapons and the proving grounds upon which to fire and explode them and soldiers in all of these conflicts verify that Uranium weapons have been used extensively in these combat areas.
The Defense budgets allocate monies for DU and Veterans at least one-third of them disabled with undiagnosed symptoms of radiation poisoning - verify DU has and is being used in our armed conflicts.
Unfathomably large numbers of our soldiers are contaminated in Asia and then come home with tell-tale signs of DU poisoning, more often are not are denied testing for Uranium contamination, and, find tremendous difficulty receiving the proper diagnosis, care, treatment, and benefits that are rightfully due them. Sadly, their lives are typically cut short due to radiation's effects on their immune systems and the creation of diseases that destroy their vital organs.
In a letter to a VA physician sent in May, 2006, Senator John Warner of Virginia confirms DU use by writing: "Such munitions played a major role in the allied victory against Saddam Hussein's armored divisions in the first Gulf War and in the peace-keeping operations in Kosovo in 1999. The Department of Defense continues to procure depleted-uranium munitions as a crucial part of America's defense arsenal in Iraq and Afghanistan today based largely on these successes."
As I stated earlier, we first started using Uranium in July, 1945 in the US in bombings of America they like to call "tests"... and we have been firing, burning, and exploding Uranium rendering tremendous amounts of poison gas ever since on US Department of Energy and military sites. According to the Environmental Protection Agency? The number of toxic and contaminated federal sites under the jurisdiction of the Departments of Energy, Defense, and the Interior tops 57,000. Fifty Seven Thousand contaminated sites... and that's just inside this country alone!
In fact, Depleted Uranium is being fired into the open air not that far from here in Maryland at the Aberdeen Proving Grounds that's about 45 miles away which has irreparably contaminated our beloved Chesapeake Bay for an eternity. When I told a retired veteran who use to train soldiers at Aberdeen that my husband's family enjoys picking crabs harvested from the Cheapeake Bay, the Army vet said, "Don't eat the seafood from the Bay! I wouldn't even put my little toe in that Bay!"
Lest we think we are safe here in DC from inhaling ionizing radiation because Aberdeen is 45 miles away? Dr. Chris Busby and Saoirse Morgan discovered high levels of Uranium in the air filters 2,400 to 2,500 miles away, inside the United Kingdom 7 to 9 days after the US "Shock and Awe" Uranium bombing campaign in Baghdad. These Uranium oxides travel through the winds, remain suspended in the atmosphere, and come down to the earth through rain and snow, becomes re-suspended again and so the cycle goes. So, no, I'm sorry. We are not safe here.
In fact, I have calculated that the US military has used 457 tons of Depleted Uranium in military "testing" inside the US. Yes, that's 457 tons of Depleted Uranium, used by the US in its own country on its own citizens! That's more DU than the 320 tons they admit to using in the first Gulf War in Iraq! And the actual number of tons used on us Americans - is probably much higher, because early on, good records were not kept on DU used at its military sites, many bases have been closed down, and this number does not include the many thousands of pounds of Uranium that have been detonated by the Department of Energy's nuclear weapons laboratory test sites.
And how does DU compare to the effects of atomic bombs? Dr. Ernest Sternglass, Professor Emeritus of Radiological Physics at the University of Pittsburgh Medical School, Director of the Radiation and Public Health Project, and a pioneer in the study of health effects of low-level radiation, provided research and testimony in 1963 which played a role in President Kennedy's decision to sign the Partial Test Ban Treaty. According to Dr. Sternglass, "the biological damage from internal radiation at low dose is some 100 to 1000 times greater than estimated by the government sponsored International Committee of Radiation Protection largely based on extrapolation of the results of the study of A-bomb survivors in Hiroshima and Nagasaki exposed to short, high doses of gamma rays and neutrons."
- Advertisement -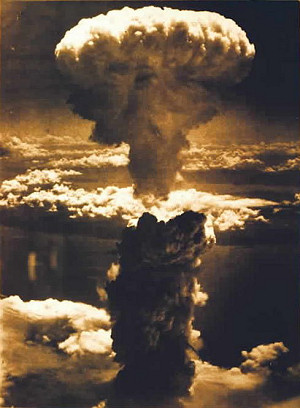 Nagasaki - 1945
In other words, even though there are no atomic bombs being detonated any longer, the Uranium penetrators, bombs, and missiles we are using right now in Afghanistan and Iraq, Somalia, and at weapons practice sites like the one nearby in Maryland - are even more dangerous to human health over the long run - than large atomic bombs.
Sadly, they may be able to get away with saying that they stopped so-called "nuclear tests" in our country, but the fact of the matter is, atmospheric explosions of Uranium and other radioactive elements continue to this very day! With our Department of energy detonating Uranium since the 1950's at locations such as Livermore outside San Francisco in California, at the Nevada Test Site, and the Los Alamos in New Mexico? The nuclear materials explosions, in reality, never stopped!
A bit more about DU When fired or exploded, it is pyrophoric, becoming a tremendous fiery explosion, and reaches high temperatures between 3,000-6,000 degrees Centigrade. The Uranium and other metals form a gas or aerosol. These are invisible, nano-sized particles, a billionth of a meter in size, smaller than microns. They act more like a gas than a particle.
These explosions cause the creation of ceramic Uranium oxides - aerosols a poison gas the US uses on the battlefields of Iraq and Afghanistan, as well as formerly in Bosnia and Kosovo - the Balkans, the former Yugoslavia, and in what they call "testing" even though they've been "testing" the same materials for over 5 decades in places like Okinawa, Japan, Australia, Germany, Scotland, Guam, Panama, Vieques in Puerto Rico, South Korea, off the coasts of Canada in the Atlantic and Pacific, and up and down the coasts of the US in the Atlantic and Pacific and in Hawaii and Alaska.
Inside the US, Depleted Uranium has been fired, exploded, and/or burned in the open air in many states, just some of which are: Vermont, Massachusetts, New Jersey, Maryland, Illinois, Indiana, Kentucky, Missouri, Alabama, Tennessee, Florida, Utah, Nevada, Arizona, Colorado, New Mexico, and California. In addition, these radioactive wastes have been dumped into the Atlantic, the Pacific, and the Gulf of Mexico or burned in our open air.
DU has been fired from Naval boats into the Atlantic off the coast of Nova Scotia and Massachusetts off the Pacific from up north off the coasts of Vancouver Island, Washington State, and California.
In October 1995, President Bill Clinton revealed that many thousands of human radiation experiments have been conducted by the US spanning into five decades. Do you think this all stopped because Clinton told us so? Well, we do know the Department of Energy measures the radiological "doses" in air filters in California, as well as the "doses" in vegetation and wine. And in the San Francisco area, which surrounds the Livermore Weapons Laboratory, statisticians follow diseases like cancer, with the CDC watching and recording corresponding increases in diseases over time. Some consider this form of atmospheric radioactive contamination and the careful measuring of American disease rates to be one gigantic human radiation experimentation project without any end in sight.
Going back to what is called "battlefield Uranium," Dr. Sternglass states, "It has been clearly shown to allow these fine particles that have less than a quarter of a million diameter. They measured it and calculated in three weeks how many of these particles would be taken in by a person breathing normally and spending some time outdoors and they calculated that 23 million tiny particles of a quarter million diameter in the concentration that they measure would reach the body and go to the lungs and enter the lymphatic system and produce all kinds of organ damage."
Dr. Sternglass also said, "if these particles are small enough, that is tinier than a micron, which is a millionth of a meter, or one ten thousandths of a centimeter, if these particles are that small, it turns out they are toxic in themselves, whatever they are composed of." "That's exactly what's happening in the case of nanoparticles which are produced when the uranium burns upon impact and melts steel and the fine particles are so small, they act like a gas. So what you're getting is a gas of uranium that gets transported around the world....And so what we're seeing is an epidemic of all types of conditions that we did not understand, that have been in continuous rise in this country in the last 15 years, actually since the mid-80s. A very consistent rise, especially in cancers that are known to be produced by radioactive materials." Since 1994-2004 we've seen a tremendous increase in cancers and diabetes in the US. Japan now has almost twice the rate of diabetes as the US and radiation is considered by many scientists to be the contributing factor.
Some of the known health effects caused by low levels of ionizing radiation include: cancers, birth defects, respiratory disease, kidney and thyroid disease, chronic diseases caused by neurological and neuromuscular radiation damage, mitochondrial diseases such as Chronic Fatigue Syndrome, Lou Gehrig's, Parkinsons and Alzheimer's, heart and brain disorders, DNA damage in men's sperm, infertility, learning disabilities, mental illness, lower birth rates, higher death rates, diabetes, and infant mortality.
What a horrible thing to have to face In a nation so supposedly Christian and into human rights and the so-called "right to life" movement that pushes to protect the un-born, we are, in actuality a nation of baby killers who are now into our seventh decade of poison gassing innocent men, women, children and babies babies! all the world over.
Shouldn't this be illegal, you might wonder? Well, yes, in fact. It not only should be but it already is. According to UN Humanitarian Lawyer, Karen Parker, DU violates international humanitarian law that governs armed conflict as well as basic human rights laws. In 1996 and again in 1997, the UN Sub-Commission Sub-Commission on Prevention of Discrimination and Protection of Minorities, found DU weaponry -incompatible with existing humanitarian and human rights law.
In Humanitarian law, there are 4 rules: First, weapons may only be used in the legal field of battle, on legal militarytargets of the enemy in the war. Second, weapons can only be used for the duration of an armed conflict. Third, weapons may not be unduly inhumane, causing unnecessary suffering and superfluous injury and Fourth, weapons may not have an unduly negative effect on the natural environment. Given this, Karen Parker says DU weaponry fails all four tests. Uranium causes cell mutations. Thus, the genocidal effects on people long after hostilities cease is grounds for consideration of DU weapons as crimes against humanity war crimes! Weapons may not use or employ poison, and they may not severely damage the environment.
Our violators are therefore subject to legal liability for their effects on victims and the environment, as well as criminal liability of the users. Legal justice also includes fair compensation and other remedies for the victims of these weapons.
I interviewed Ms. Parker and was told DU firing and exploding inside the US is a violation of the basic human rights of US citizens!
DU weaponry cannot be used in military operations without violating these rules, and therefore must be considered illegal Ms. Parker states: "In my view, use of DU weaponry necessarily violates the grave breach provisions of the Geneva Conventions, and hence its use constitutes a war crime or crime against humanity."
Many people agree and they think that the logical thing to do is to call for a treaty that bans the use of DU and other U weapons. To many this seems like the logical thing to do It is a lethal poison gas and thus there should be a ban, right?
International UN Humanitarian attorney, Karen Parker, says no, there should not be a ban. After studying this matter, I agree, and here's why.
A ban can be risky because the US uses a trick to use the treaty process to weaken and completely undermine the already existing customary laws to terminate them. The reason why this would be devastating is because the US Courts are likely to be persuaded that a new ban will over-ride already existing customary international laws.
So there is a huge push for a treaty calling for a DU ban even though the US government and UK, in all likelihood, will never sign such a ban. Yet, the US will still be able to argue that a ban exists, and therefore the already existing international laws are no longer applicable.
Just as an example, the US courts, when trying a future case brought up with regard to Uranium weapons related damages, could say, Well DU was not banned in 2008, therefore, all the veterans who are sick and who have served since 1991 to 2008 could then be told: DU was not illegal nor banned until 2008, so you are arguing for compensation of an illness caused by a substance used which was still legal between 1991 to 2008. So in other words, a ban is being called for that will actually harm the case of our veterans and others who will try to seek legal recourse in the future. A ban would allow the US to duck their responsibility and get easily off the hook for its many years of crimes!
In an article co-written by UN Lawyer Karen Parker, I quote: "Even a cursory review of existing norms of the laws and customs of war (humanitarian law) supports the conclusion that uranium weaponry of any type is so patently illegal that the discussion should really focus on bringing to justice those who have used it and redirecting action towards the victims of these weapons."
So where do we go for here? Just because we do not need to push for a treaty that calls for a ban on Uranium weapons use does that mean we have to sit and do nothing? On the contrary! We must demand the end to Uranium munitions. The US military, I have been informed by a knowledgeable source could easily stop using all Uranium weapons tomorrow... that is, if they only wanted to!
So I wholeheartedly agree with Dr. Ernest Sternglass who said, "We have to end the use of ammunition that contains uranium in any form."
So what do we, as citizens, do? Many international treaties and protocols already exist that show that radioactive weapons are a violation of international humanitarian law, basic human rights, and environmental law. A UN Sub-Commission has already condemned the use of DU weapons and nations like the US are ignoring them. International law is quite clear. We do not need any new laws!
What we need is for our government to do the right thing by its citizens and by humanity! This is clearly not happening And I don't pretend to know how to turn an absolutely morally bankrupt, corrupt government around.
What I do know, however? There's tremendous strength in numbers vastly huge numbers of citizens of the world in loud uproar protesting the destruction of life all over the planet by the world's most destructive nation intent on robbing, and stealing all of the planet's resources they possibly can while weakening, sickening, and killing those populations.
In October 1995, President Bill Clinton, addressed the subject of several thousand human radiation experiments conducted by the US government over decades. I quote: "Our greatness is measured not only in how we . . . do right but also how we act when we know we've done the wrong thing; how we confront our mistakes, make our apologies, and take action." As we know, Clinton sure knows a great deal about making mistakes and even though I'm normally none too keen with the ex-President, he makes some good points.
We must confront our mistakes make our apologies and take action. Clinton also "asked the committee to determine the truth about this dark chapter in our nation's history" and said, "Finally the federal government is providing redress to those who have suffered radiation experiments. "
Yes, this is indeed a "dark chapter in our nation's history" arguably, our darkest ever as this government has knowingly, purposely exposed all of us on the planet to radiation in our environment for many billions of years. We appear to be one huge human radiation experiment... an experiment that sadly, due to Uranium's multi-billion years half life... has no end.
We cannot un-do the past. But starting right now we can together vow to allow them to do no more harm.
Each and every day we wait, more lethal radiation bombards and irreparably contaminates all living things and our environment. Right now, all of us can take action. If we realize that genocide and, what many experts are calling omnicide eventual human extinction by human action - is taking place? We must demand the end of the use of radioactive weapons and keep right on screaming till they clean up their messes, pay for care and treatment for all afflicted parties, and provide just compensation.
Last but certainly not least we must call for the arrest of all these war criminals who ordered, used, and funded these weapons and kept their use and health effects a secret. We must find a way to keep these individuals securely in a place where they can do no further harm to another living soul. We must hold all of them accountable in a court of law for their domestic and international crimes grave breeches of humanitarian, human rights, and environmental laws committed all over the world.
All of this cannot will not happen unless and until we make this happen! Far greater awareness and public education must take place. Since our media works hand in glove with Uncle Sam to keep this covered up it is up to you and me ordinary people - to do this critical grassroots education.
By our knowledge of these massive crimes against humanity and the environment we must expose this, demand an end to this madness, and work together to ensure the perpetrators are brought to justice to the fullest extent of the law. We need a modern Nuremburg and we need it now!
Doing so will take you and me and many more like us sane, compassionate, people of conscience who know that purposeful destruction of other humans, wildlife, and the planet is wrong.
We have a huge job ahead of us, and because even many of our peace groups are controlled they do not allow lectures like this one so thanks again to the Washington Peace Center for giving me this opportunity today.
Yes, it's a huge job, and we need to get to work. The world's been waiting for us to do this ever since 1945. On behalf of the health and well-being of our kids, their kids, and all future generations of our descendants for billions of years to come? I urge you to join me and get your family, friends, everyone you know to help. We are all breathing radioactive poison dust and gas. Time is running out and there is not even one more precious moment of life left to waste!
Cathy Garger is a regular guest contributor to Axis of Logic. She is a freelance writer, public speaker, activist, and a certified personal coach whose writing is specialized in Uranium weapons. Living in the shadow of the national District of Crime, Cathy is constantly nauseated by the stench emanating from the nation's capital during the Washington, DC, federal work week. Cathy may be contacted at savorsuccesslady3@yahoo.com.