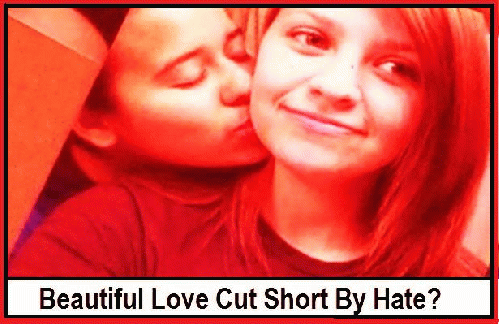 Mary and Mollie
(
Image
by
Google Images w/caption by Rev Dan
)
Details
DMCA
They were teens who seemed to be in love: Mollie and Mary met five months ago and had formed a bond that people noticed. And while they weren't extremely overt about the relationship, their pride in that bond have caught the attention of someone who didn t like it: last Friday, both girls were shot in the head at close range. They were found 8 hours after the shooting. Mollie was dead and Mary is in "serious but stable" condition."
And can communicate.

PORTLAND -- Two teen women were found shot in the head about 25 yards beneath a scenic overlook deck at Violet Andrews Park about 9 a.m. Saturday by a couple visiting the park, police said. Mollie Judith Olgin, 19, raised in Ingleside and living in Flour Bluff, was dead, said Police Chief Randy Wright. Olgin's vehicle was found near the crime scene, he said. Mary Christine Chapa, 18, was taken to an area hospital in critical condition where she underwent emergency surgery and was stable by midafternoon, he said. "She is able to communicate," Wright said. "But we have not yet been able to talk with her."
Some martyrs are like shooting stars: flaring bright, then settling somewhere in the firmament beyond our memory. That's why Mollie Judith Olgin's star will be seen for a while. But her girlfriend's life may be focused on for quite a while longer if she is able to give authorities a sense of what happened. Friends and families have both stated that they know of no one who would want to do either of them any harm and their relationship seemed to be accepted by everyone.

And the possibility of this becoming a Matthew Shepard case is frightening to the Right: already it is grasping at uncertainties to squelch any thoughts of hate crime - or martyrdom. In the near future, we may see people like Rep. Virginia Fox sending out strong speculative statements that it was just a simple robbery, or worse: it was a heinous lesbian lover's quarrel.

But to their dismay, the specter of extreme violence against gays - especially gay teens - will not go away easily with this one - at least not until Mary Kristine* Chapa herself brings clarity to the case: the subject of hate crime may be hers alone to define.

The Perpetrator Was Not Alone

At this point, the attacker who thought the crime was done thoroughly must be cowering somewhere, hoping that Mary Kristine Chapa never recovers. If indeed it was a hate crime, the entire country (or at least those disposed to a modicum of compassion and justice) will be after metaphorical (if not physical) blood. And that thirst for justice will seep out to the rest of the small Texas community, the state and the country. Wayne Besen of Truth Wins Out points out:

Nonetheless ... out, we know that a heightened level of anti-gay vitriol inevitably leads to violence. When you have fanatical enemies dedicated to bullying, berating, and belittling, it can come as no surprise when their behavior eventually devolves into brutalizing and bashing.
The recent spate of hate speech coming from pulpits across the country, calls for (perceived) gay children to be abused, gays to be put behind barbed wire fences to die out and gays to be executed by the government, all build up to violence in one form or another. The speech is so robust that even small, law-abiding, gay-friendly towns are not immune to it.
Then Again, It's Texas

"We affirm that the practice of homosexuality tears at the fabric of society and contributes to the breakdown of the family unit. Homosexual behavior is contrary to the fundamental, unchanging truths that have been ordained by God, recognized by our country's founders, and shared by the majority of Texans."
That's a statement from the new Republican Texas platform. Emboldened by Texas megachurches and Gov. Rick Perry's homophobic stance against gays, the Texas GOP has taken to demonizing gays in a way that no other state GOP would think of.** In a state where people routinely carry guns and the Republican constituents are proud of Rick Perry's execution record, hate crimes are trivialized: time to think about serious subjects like illegal immigration and not a fatal shooting of two teenage lesbians.
Be that as it may, a statement from Chapa could ignite a firestorm on both sides of the culture war.

We can only hope that it will jettison the hate in Texas.

(Note: You can view every article as one long page if you sign up as an Advocate Member, or higher).