Republished from PressTV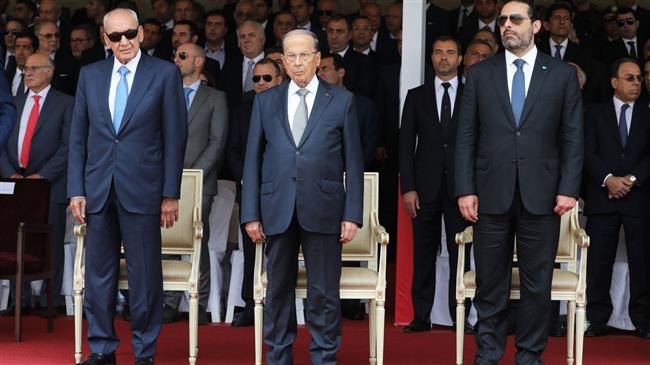 Lebanese President Michel Aoun (C), Speaker of the Parliament Nabih Berri (L) and Prime Minister Saad Hariri attend a ceremony marking the 74th anniversary of the founding of Lebanese Armed Forces at the military academy in Beirut, Lebanon, on 1 August 20
(
Image
by
Press TV
)
Details
DMCA
In a recent column I debunked the West's primary propaganda lines regarding Lebanon's ongoing protests: that Iran has somehow silently usurped a century of French colonial dominance, and that Lebanese Shia - represented by Hezbollah and Amal - should be held responsible for the nation's corruption woes despite having always been the biggest victims of the French-penned system of anti-democratic sectarianism.
In another column I stated what all Lebanese know but which the West never admits: the Maronite Christian community has been given preferential treatment for a century - regarding the army, the central bank, and Western media tolerance for their militias - and this has been the primary catalyst for neo-colonial corruption, inequality and inefficiency.
This article will continue to insist that Lebanon's problem is not Christian nor Muslim but a question of classic right-versus-left political ideologies. This reality is illustrated in the very unequal fates of three Lebanese Maronite Christians: Michel Aoun, Samir Geagea and Georges Ibrahim Abdullah.
Michel Aoun - the real, but bygone, patriotism of 'petit de Gaulle'
To many people Michel Aoun is likely the only recognizable name among the three. However, many would still be at pains to explain why the right-wing Christian has had a political alliance with Hezbollah since 2006.
Despite all his faults, we cannot say that Aoun is not a Lebanese patriot. He chose exile rather than acceptance of the US-backed peace plan in 1991, which saw Syria occupy and finally pacify Lebanon.
Was Aoun also wanted for war crimes and corruption charges? Yes. Was he also defeated militarily by Syria? Yes.
Lebanese President Aoun says ready to dialogue with protesters. Lebanon's President Michelle Aoun has reiterated his call for dialogue with protesters.
(
Image
by
Press TV
)
Details
DMCA
However, we should acknowledge that Aoun's mutiny against Washington was exceptional. Aoun exiled himself to France because he would not accept a violation of Lebanon's sovereignty. This decision helps explain his enduring popularity: "petit de Gaulle" is more appropriate than "Napol-Aoun", though the latter is more popular recently.
Aoun has openly declared Hezbollah to be part of Lebanon, and it's easy to see why he appreciates them: Hezbollah has defended Lebanese sovereignty from arch-reactionary and hyper-belligerent Israel. The alliance between Aoun and Hezbollah is understandable - both are patriotic.
It's facile to say that the Aoun-Hezbollah March 8 Alliance is "pure politics", because the reality is that neither group would degrade themselves morally and ideologically in a "pure politics" alliance with the divisive extreme-right Christian parties, as the Hariris have done with their March 14 Alliance.
It is only if we believe the sectarian-promoting, identity politics-obsessed Western press that we could imagine that total enmity between Hezbollah and Aounists must exist simply because they are of different religions. Both Aoun and Hezbollah oppose the corrupt Hariri clan, who are adored by Western neoliberals and Saudi reactionaries alike.
However, when viewing the anti-corruption protests of 2019 it is important to remember the political reality that many young Lebanese believe Aoun is beyond redemption - they will not look past Aoun's Phalangist past, war crimes, corruption, and ardent neoliberalism. Such a view is very understandable: patriotism is not the ultimate virtue, contrary to the assertions of the conservative Aounists.
Aounism's determined, yet flawed, form of patriotism is dying also because many young Lebanese have been brainwashed by the West's "globalization" mindset. In this view "jingoism", "nationalism" and "patriotism" are interchangeable, even though the latter is the admirable, unique and even necessary love and respect one has for their national community. Such a worldview is personified by French leader Emmanuel Macron, who repeatedly states that, "Nationalism is war." For many young Lebanese Aoun's patriotic virtues are totally lost on them.
Aoun is now reportedly asleep 12 hours a day and incapable of playing a direct role anymore - his worldview is equally tired, and will not endure because the Great Recession has accentuated classism and not his "semi-sectarian patriotism".
(Note: You can view every article as one long page if you sign up as an Advocate Member, or higher).