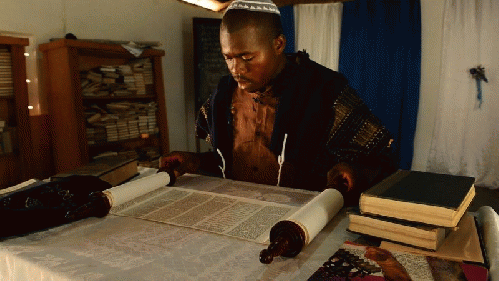 Production Photo
(
Image
by
Gabrielle Zilkha
)
Details
DMCA
Suppose you're a young Jewish woman on a six-month volunteer mission with a women's rights group in Ghana, West Africa. Your passion for women's issues helps you dismiss your initial wariness in this strange setting. Then the Jewish New Year celebrations -- Rosh Hashanah and Yom Kippur -- approach, and you long for the holiday celebrations back home.
So what does a wandering Jew do? She looks for a synagogue. But a synagogue in Ghana?
So she asks about one.
Most people are puzzled, saying that they've never seen or heard of any Jews. One man says that he knew a few Jews, but could not provide any details.
This is what happened to Gabrielle Zilkha, until an age old Jewish resource came to her: a Jewish mother.
Gabrielle's mom searched the Internet and found a brief reference to a Jewish group in a small rural village quite far from Accra, the capital of Ghana, where Gabrielle was staying.
Although skeptical, Gabrielle called and arranged a visit. After a day-long bus ride to the remote village, she asked a cab driver about a man named Joseph, the contact name she was given. It drew a blank. She added, "he's a Jew." The driver's face lit up: "Oh, OK." He drove her to a house where she was welcomed and taken to a guest room. When the door opened, she was staring at a large Star of David on the wall.
This is where filmmaker Gabrielle Zilkha's journey into Judaism in Ghana --and the inspiration for her documentary film, Doing Jewish: A Story From Ghana -- began.
In that moment, though, looking at the Star of David she wondered: "Is this just a token or do they really practice Judaism?" That question was answered the next morning, the Sabbath, when Gabrielle entered a small crude building that was their synagogue.
To her astonishment she saw a Torah, men with yarmulkes (skull caps) and talits -- and the entire congregation of black African men, women and children chanting prayers in Hebrew.
Production Photo
(
Image
by
Gabrielle Zilkha
)
Details
DMCA
I interviewed Gabrielle to find out more about this intriguing community.
Bernard Starr: That synagogue experience must have been quite a shock.
Gabrielle Zilkha: It was indeed. I'm not a frequent synagogue-goer but there was something quite beautiful about finding a sense of familiarity as a foreigner. This synagogue also felt so remote from other Jewish communities and institutions, and I found it quite moving to see a people so dedicated to their Jewish culture in what seemed like a vacuum.
(Note: You can view every article as one long page if you sign up as an Advocate Member, or higher).