Reprinted from al-Araby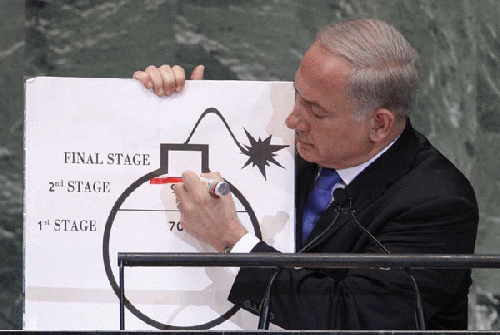 Israeli Prime Minister Benjamin Netanyahu draws a red line on a graphic of a bomb as he addresses the 67th United Nations General Assembly at the UN headquarters in New York, Sept 27, 2012.
(
Image
by
[Photo/Agencies]
)
Details
DMCA
>
The contents of a secret report by Israel's Mossad spy agency on Iran's nuclear program leaked to the media this week are shocking and predictable in equal measure.
Shocking because the report reveals that the Israeli prime minister, Binyamin Netanyahu, has spent years convincing the international community and Israelis that Tehran is racing towards building a nuclear bomb, when evidence presented by his own spies suggests the opposite.
Predictable because since early 2011 Israel's security establishment has been screaming as loudly as any secret service realistically could that Netanyahu was not to be trusted on the Iran issue.
The significance of the leak is not just historical, given that Netanyahu is still trying to scaremonger about an Iranian threat and undermine negotiations between western powers and Tehran.
According to the report, leaked to al-Jazeera and the Guardian newspaper, Mossad
concluded
in 2012 that Tehran was "not performing the activity necessary to produce weapons."
At the time, Netanyahu was widely reported to be pushing for a military strike against Iran. He had recently flourished a cartoon bomb at the UN in New York, claiming Tehran was only a year away from developing a nuclear weapon. The international community had to act immediately, he said.
Mossad however estimated that Iran had limited amounts of uranium enriched to 20 percent, far off from the 93 percent needed for a bomb. Tehran has always argued it wants low-grade uranium for a civilian energy program, as allowed by the Non-Proliferation Treaty that Tehran has signed.
In 2012, the New York Times reported that the Mossad and the US shared similar assessments of Iran's nuclear program. "There is not a lot of dispute between the US and Israeli intelligence communities on the facts," a senior US official
told the paper
.
Earlier, in 2007, a US spy agency report suggested Iran had abandoned any efforts to develop a military nuclear program years before, and was not trying to revive it.
Downplayed by media
This week's leak has been downplayed by the Israeli media, at a time when it has the potential to seriously damage Netanyahu's election campaign. His rivals are making almost no capital from the revelations either.

The low-key reception is even more surprising, given that Netanyahu is expected to reprise his 2012 fearmongering at the UN in an address to the US Congress next week. He hopes to undermine talks between the US and Iran on reaching a deal on the latter's nuclear program.

Netanyahu's move -- made without coordination with the White House -- has infuriated Obama and brought relations to their lowest ebb in living memory.

This week it emerged that Netanyahu also failed to consult his national security adviser, Yossi Cohen, who oversees Israel's strategic relationships. Cohen, who took up the post in 2013, served in Mossad for 30 years.

In justifying the lack of furor, Israeli security analysts claim that Mossad estimates from 2012 do not diverge significantly from Netanyahu's public position. Both were agreed that Iran is seeking to build a bomb, they argue, but the two sides took a different view on the rate at which Iran was enriching uranium and thereby moving towards the moment it could make a weapon.

That argument is far from convincing.


(Note: You can view every article as one long page if you sign up as an Advocate Member, or higher).