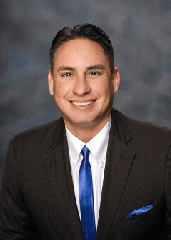 Senator Howie C. Morales - (D)

(

Image

by

New Mexico Legislature

)

Details DMCA
Senator Howie Morales of New Mexico
BREAKING NEWS: New Mexico's Attorney General Hector Balderas announced that he has joined other state attorneys general in announcing a multi-state lawsuit against the Federal Communications Commission over its vote to rollback net neutrality protections. The planned lawsuit will be led by New York Attorney General Eric Schneiderman.
news coverage: New Mexico attorney general joining suit over net neutrality | Albuquerque Journal
https://www.abqjournal.com/1107432/new-mexico-attorney-general-joining-suit-over-net-neutrality.html
>>>>>
This press release is posted by Stephen Fox in Santa Fe, in appreciation for this very quick action and response, by a very progressive New Mexico State Senator who is also running for Lieutenant Governor; he has also agreed, the first in the NM Senate, to write to our New Mexico Attorney General, Hector Balderas, to ask him to join with the 3 other states who are suing on this issue, now that the FCC has ignored the request to delay the ruling by 15 other Attorneys General; please see also John Nichol's OEN article on this, and to quote:
Legal observers say as many as 18 states could sue. In addition to the chief law enforcement officers of California, New York and Washington, the attorneys general of 15 additional states signed a recent letter urging the FCC to delay the Net Neutrality vote: Delaware, Hawaii, Illinois, Iowa, Kentucky, Maine, Maryland, Massachusetts, Mississippi, North Carolina, Oregon, Pennsylvania, Rhode Island, Vermont and Virginia.
FOR IMMEDIATE RELEASE
December 15, 2017 CONTACT: Sen. Howie Morales at 575/590.7804 or hcm260|AT|gmail.com" target="_blank" title="This external link will open in a new window">hcm260|AT|gmail.comEmail address
Sen. Morales Announces Push for State Legislation to Keep Free and Fair Internet Access After FCC Strips Net Neutrality Protections
(Santa Fe, NM) -- State Senator Howie Morales today announced that he will propose legislation establishing net neutrality for all of New Mexico in the January meeting of the legislature. Morales' call for state net neutrality following the Federal Communications Commission controversial action affecting the Internet on Thursday that repeals Net Neutrality protections nation-wide.
"Since the federal government is abandoning its important responsibility to ensure free and fair Internet, we must push for legislation at the state level immediately to put in place strong net neutrality requirements here in New Mexico.
We have ample means to do it. We can require that the powerful broadband providers like Verizon, Comcast and AT&T that operate here strictly practice net neutrality, and we can impose it in state contracts. Our state cable franchise agreements also can be used to establish net neutrality as a condition for accessing the public right-of-way for internet infrastructure. States can protect free and open internet access, and I intend to do it in New Mexico," said Senator Howie Morales of Silver City.
A majority of the Federal Communications voted yesterday to allow private Internet provider corporations to divide the Internet into fast and slow lanes for the first time. This major policy reversal means the Internet as we have come to know it would cease to exist, and the ordinary consumer would lose out on access to ideas and information.
(Note: You can view every article as one long page if you sign up as an Advocate Member, or higher).