Inner oasis

(

Image

by

Eric Walberg

)

Details DMCA

Manial --

I stumbled into Cairo after Tashkent, where I had stumbled across Islam, courtesy of dictator Islam Karimov, who -- despite his name -- persecuted brave Muslims mercilessly, and impelled me to recite the shuhada, at first, more as a sign of solidarity. I was now determined to learn Arabic, read the Quran, experience Muslim culture first-hand and test my enthusiasm for Islam.

I found the Fajr Centre for the Arabic Language, founded in Cairo in 1995, online. The new session was beginning in January 2007. Fajr (dawn) is for new enthusiasts and prospective imams, affiliated to the Egyptian Ministry of Education and al-Azhar, and located in Medina Nasser (Nasser City), which I was to discover is a sprawling suburb near the airport. Transportation in Cairo is a nightmare, be it by taxi or public transit. Virtually all Fajr students share digs near the 'institute', which is modest to say the least, but I immediately liked it, despite the anonymous suburban clutter. The administrators and my teacher were clearly devout Muslims, and warm, friendly people. This was not for rich secular westerners, who studied at the AUC or one of many private institutes down town, at three times the cost.

I heard of a Canadian-Egyptian artist who lived in Manial, the southern-most large island of Cairo, perched just upstream from more upscale Zamalek. Anna responded to my query, offering the vacant apartment next door. The 'apartment' was one of two shacks atop a 9-storey genteel 1930s apartment building on the east shore of the island of Manial, with a channel of the Nile and the Corniche directly underneath, in the heart of Cairo. Straight out of The Yacubian Building (2002), the current best-seller by Egyptian author (and dentist) Alaa el-Aswany, made into a film as I was packing my bags for Egypt in 2006, and into a TV series in 2007. A good omen, I thought, and it became a kind of Bible for me, where I learned my Arabic watching the daily episodes, along with other musalsal (tv soap operas) over the few years, like a textbook, as I struggled with Arabic. It is set in a real-life, dowdy, but still elegant Art Deco-style 1930s apartment building in downtown Cairo, much like the one I was to call home for the next six years, populated by a bizarre cross-section of Egypt.

My rooftop eyrie with its ghosts of past rooftop dwellers was a scaled-down version. The real thing was a whole village, crammed onto the roof. The book-movie is a biting condemnation of a nation that has squandered its promise and which has been forced to compromise its own principles, resulting in a corrupt and undemocratic political system dominated by a single party (the fictitious "Patriotic Party", a thinly veiled version of Egypt's National Democratic Party under Mubarak), a society whose most talented members abandon the country for promising careers abroad, and an increasingly disenchanted and restive populace that has no loyalty to the government and which sees extremist Islam as one of the few viable options to counter growing poverty, economic stagnation, moral degradation and social alienation. Despite its unremittingly devastating dissection of Cairo, its colourful characters make it a compelling, heart-warming read. I visited the real Yacoubian Building on Talaat Harb Street (still referred to by its old name, Suleiman Pasha, Muhammad Ali's French-born general). It hasn't changed much over the years, but its entrance gate is more securely locked than mine in Manial against gawkers like me.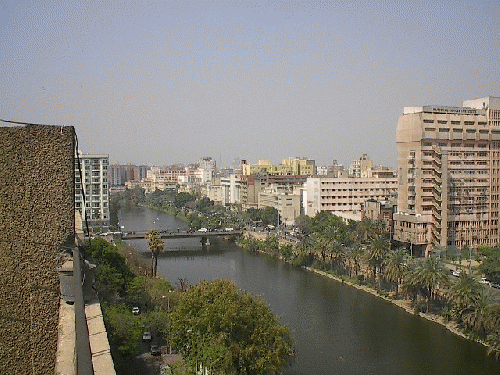 Roof with a View

(

Image

by

Eric Walberg

)

Details DMCA

Roof with a View One look at the panorama of the Nile below my eyrie and I was determined to rough it out. It sounds great in retrospect, but over time, proved less and less a place to actually live. My eccentric rooftop neighbour Anna Boughiguian, the Armenian Egyptian author of Anna's Egypt: an artist's journey (2003), herself spent months at a time visiting artist friends in Germany, following the trail of the Dalai Lama, whatever. Her flat was more a studio/ storage shack. The lock on the iron gate at the entrance was mostly broken or left unlocked, which made it convenient for visitors, both expected and unwanted. She was a militant secularist, representing the large and frightened class of westernized bourgeois who thrived under Sadat-Mubarak. She had no use for either Nasser's national socialism or the Muslim Brotherhood (MB), both of which I cherished. Over time, I came across many such Egyptians.



(Note: You can view every article as one long page if you sign up as an Advocate Member, or higher).