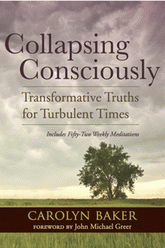 Collapsing Consciously: Transformative Truths for Turbulent Times
(
Image
by
Carolyn Baker
)
Details
DMCA
Dianna Monroe writes on therapist and author Carolyn Baker's website:
I believe this ability to see both within and beyond the boundary of something (galaxy, community, culture, civilization) is an important quality of Edge-dwelling -- one that can be discovered, learned, cultivated. It's a practice we can grow within ourselves.
This ability to see both within and beyond is a crucial quality for our times living within and at the edge of a crumbling civilization, entering an epoch of human-created climate change whose impact on our Earth is not yet known.
This is a huge edge to be living on.
Our times invite and call on us to look inward at our civilization, to view with clarity its underlying dynamics and motion -- and also to look outward beyond the horizon of our times -- to view honestly the perils of the climate change our civilization has caused and with hope to vision the potential to create a human culture that lives in harmony with our Earth and all its varied life forms.
http://www.carolynbaker.net/2014/02/03/edge-dwelling-a-social-ecology-for-our-times-part-3-middle-school-misfits-and-the-milky-way-by-dianne-monroe/
Carolyn Baker is such an Edge-Dweller. She writes "with unrestrained passion and urgency" about navigating the collapse of culture. According to Carolyn, it is no longer a debatable issue that our culture is, indeed, collapsing. The signs are everywhere, for those with open eyes. Our ecology, politics, economy, personal and social conditions have all deteriorated. Our politicians no longer are in hiding regarding who actually supports them. It is those large-scale corporations, who are nothing less than sociopathic entities that politicians such as Romney, and his counterpart, Obama and the Supreme Court justices, proclaim as "people."
We need to die to our current cultural myths and expectations in order to bring forth a new resilient, equitable, and Earth-friendly culture. This is so scary that many remain in total denial of collapse despite the horrifying changes in weather, employment, economic divide, and violence that constitute our daily "news." To get our collective heads out of the sand, we must find a way to face our fear of fear and befriend all the other negative emotions such as grief and rage that facing our true circumstances will inevitably bring forth. We must grow to understand that there is also a great joy in discovering the community, courage, and commitment that facing our challenges bring.
One of the first things we need to die to according to Carolyn is the American Dream. I hear George Carlin say, "We have to be asleep to believe in such a dream." I bet Carolyn would give a thumb's up to Carlin's words.
Ultimately, I believe Carolyn knows that our awakening entails a realization of our current collective dream that primarily originated in Middle Eastern and Western Civilization. One of the best reflections of the beginning of this dream comes from Daniel Quinn's Ishmael, which speaks to the Bible's Genesis story regarding Cain (agriculturalists) and Abel (hunting/gathering cultures and nomadic herdsmen). The arrogance and violence of Cain has turned into a planetary nightmare for human beings specifically, and for the Earth as a whole.
Yes, Able, in the form of Native Americans as well as indigenous persons throughout the world, still suffer at the hands of Cain. As the ruling and benefiting class becomes smaller and more elite, more and more of us are suffering under the scorn of Cain. It is no longer just the fringe that are impoverished, abused, and exterminated; it is "we, the people." And the story is NOT finished. It is still occurring. The Native Americans and other indigenous peoples are beginning to speak up and are being heard by more and more Europeans regarding the sanity of their lifestyles. Many from the 99% are finding the courage to speak out and risk all they have to join in the protest.
Thus, Abel may be able to reclaim the sanity of his way of living.
In advocating for Abel's lifestyle, Carolyn is not a love and light type of lady who believes positive thought will guide us into wonderful times. Indeed, I would support her by saying that the psychology of the positive thought movement was sparked by the elite (or Cain) to keep us from realizing the pitiful state we are in. Indeed, I would say we need to dive into the sh*t, compost it, and plant in order that the flowers shall bloom. In my reading of Carolyn, I would bet she would agree with me.
To help people ready themselves for the upcoming trauma of western civilization's end, Carolyn wrote a book, titled, Collapsing Consciously: Alternative Truths for Turbulent Times. For some information regarding this book, watch the following Vimeo video:
(Note: You can view every article as one long page if you sign up as an Advocate Member, or higher).