From Consortium News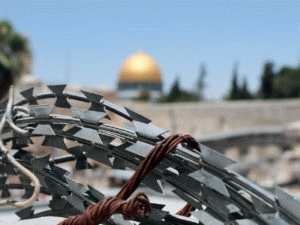 One of Islam's holiest sites the Dome of the Rock in Jerusalem, seen through barbed wire.
(
Image
by
Imaiges
)
Details
DMCA
President Trump's decision to begin moving the U.S. Embassy in Israel to the disputed city of Jerusalem -- and disclosure that first-son-in-law Jared Kushner failed to disclose his role in a foundation funding Israeli settlements and lobbied against a United Nations' resolution critical of those settlements during the transition -- are reminders that the foreign government with truly broad influence over U.S. politics is Israel.
Trump's Jerusalem announcement also threatened to touch off more disorder in the Middle East, which Ali Abunimah, co-founder of the Electronic Intifada, says reflected the Trump administration's determination to demand a full capitulation by the Palestinians. I spoke with Abunimah on Dec. 5.
Dennis Bernstein: We turn our attention back to occupied Palestine. We have now seen the kind of policy we are going to get from the Trump administration. Jared Kushner has described bringing peace to the region as his dream. We are going to talk about that in the context of his investment in settlements there. I suppose the central issue in Palestine this week is whether the embassy is going to be moved from Tel Aviv to Jerusalem and what will the timing be, as in, will it happen some time soon?
Ali Abunimah: Actually, it will not be moved any time soon. Trump will announce tomorrow [Dec. 6] that the US is recognizing Jerusalem as Israel's capital but he will also sign a waiver delaying the move for another six months and the whole process will likely take years.
Dennis Bernstein: How bad is the situation now? We know that settlements are being built apace, that the repression continues in the Gaza Strip, where life is barely livable.
Ali Abunimah: It is interesting that no one is actually talking about what is happening on the ground in Jerusalem, where hundreds of thousands of Palestinians there are facing systematic ethnic cleansing by Israel. This includes home demolitions, revocation of residency rights, land confiscations.
In the words of B'Tselem, the Israeli human rights group, since the occupation of East Jerusalem began in 1967, Israel has treated Palestinians in the city as "unwanted immigrants" and worked systematically to drive them out of the area. Whatever Trump announces tomorrow will not change the situation. The so-called international community is doing nothing about it and is letting Israel get away with it.
Dennis Bernstein: Jared Kushner is a broker for illegal settlements.
Ali Abunimah: He is a donor to illegal settlements, a philanthropist for illegal settlements. How many headlines have been devoted to Kushner failing to disclose important information in his government ethics filings? The latest is that he failed to disclose the fact that he was a director of his family's foundation, which has donated to building settlements in the occupied West Bank, particularly the settlement of Beit El, the same settlement that receives philanthropic donations from David Friedman, Trump's ambassador in Tel Aviv.
Kushner, who is supposedly charged with coming up with a peace plan, is actually busy funding settlements. Kushner's family are close friends of Benjamin Netanyahu. It is just farcical to pretend that anyone like Jared Kushner could ever be an honest broker.
Dennis Bernstein: Is all of this legal?
Ali Abunimah: That's questionable. Actually, in the past year there were lawsuits filed challenging this massive multi-billion dollar flow of tax-deductible, so-called charitable funds for illegal purposes, including the construction of settlements and massive donations to groups like Friends of the IDF.
Another issue is this whole business of what Jared Kushner was doing during the transition, when he was trying to undermine the policy of the sitting Obama administration and stop the UN Security Council resolution passed last December condemning Israeli settlements. This all came out in the context of the Mueller investigation and Michael Flynn's guilty plea, which revealed not so much a collusion with Russia as a very close collusion between the Trump transition and Israel.
Dennis Bernstein: You would think then that MSNBC, which makes a living on pumping up Russia-gate, would want to jump into this case of collusion.
(Note: You can view every article as one long page if you sign up as an Advocate Member, or higher).