It took academic, government and military researchers five years to say they don't really know what is causing military suicides but whatever it is--it isn't the psychoactive drugs they are prescribing and pushing. There have been more than 6,500 suicides since the Iraq and Afghanistan wars says Army Times ---one every 80 minutes according to a 2012 Veterans Affairs report. But if you're looking for names of the Pharma companies who've created the most drugged up fighting force in history, you'll have to look at the conflicts of interest of the authors of the research, which appeared in JAMA Psychiatry in March. They report at least 15 financial links to Big Pharma including to Eli Lilly, GlaxoSmithKline, Ortho-McNeil Janssen Scientific Affairs, Pfizer, sanofi-aventis, Shire US and Johnson & Johnson. Reported links of some authors are conspicuously absent.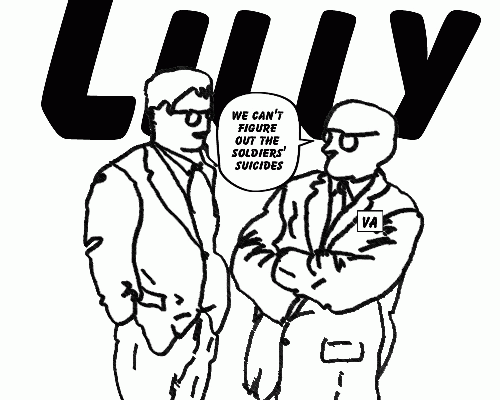 Beats us!
(
Image
by
Martha Roseneberg
)
Details
DMCA
"Antidepressants increased the risk compared to placebo of suicidal thinking and behavior (suicidality) in children, adolescents, and young adults in short-term studies of major depressive disorder (MDD) and other psychiatric disorders. Anyone considering the use of PAXIL or any other antidepressant in a child, adolescent, or young adult must
balance this risk with the clinical need."
That's the "black box" warning on the antidepressant Paxil, which the VA's Iraq War Clinician Guide says is "clearly effective" for combat veterans suffering with PTSD, even though most are clearly "young adults." Paxil and other SSRI antidepressants, all of which carry suicide warnings, are recommended in the Guide as "first line medications for PTSD pharmacotherapy in men and women with military-related PTSD." Between 2001 and 2009, 73,103 prescriptions for Zoloft, 38,199 for Prozac, 17,830 for Paxil and 12,047 for Cymbalta were dispensed according to Tricare data.
Prescriptions for anticonvulsants like Topamax and Neurontin, which also carry suicide warnings, rose 56 percent in the same group, says Navy Times . And the use of antipsychotics like Zyprexa, Seroquel and Risperdal which also carry suicide warnings? Seroquel leapt by 700 percent in active duty troops from 2001 through 2009 reported the New York Times. Maybe the suicides are caused by the green beans as Dorothy Parker would have said.
The authors of the long-awaited papers turned over every stone except the ones that feather their nests. They considered military personnel's gender, race/ethnicity, age, age at enlistment, mental history, deployment history, rank, marital status and even education. But nowhere do the words "medication," antidepressant" or "prescription" appear in the new research even though "At least one in six service members is on some form of psychiatric drug," according to Military Times. An internal study of all deaths in Warrior Transition Units (WTUs) "found the biggest risk factor may be putting a soldier on numerous drugs simultaneously, a practice known as polypharmacy," wrote Marine Times in 2010.
There is money for Pharma in keeping troops and veterans drugged up. And there is money for doctors willing to live with conflicts of interest. One example is Matthew Friedman, MD, executive director of the VA's National Center for PTSD who admits receiving an AstraZeneca honorarium in an online course, Pharmacological Treatment of PTSD and Comorbid Disorders which--surprise!--promotes psychoactive drugs. AstraZeneca makes Seroquel. Friedman has also served as a Pfizer Visiting Professor. Neither relationship was reported on his section of the military suicide research in JAMA Psychiatry.
Friedman is far from the only official working for the government while taking Pharma money. VA administrators unabashedly receive money from Pharma, and even enroll veterans in their Pharma-financed clinical trials, making no effort to hide the dual loyalties. One DOD official cited in Born with a Junk Food Deficiency, recommends off-label use of psychoactive drugs in published reports while attributing military suicides to the availability of firearms and "dear John" letters from the girl back home. Right. She also appears in a Pharma-funded video despite being a government official.
While academic, government and military researchers continue to play their game of funding Whac-A-Mole, pretending they don't know the source of many suicides while profiting from them, we may never know the true toll. "The number of military suicide victims who may have been taking antidepressants or anticonvulsants is unclear," says Army Times. "The Army repeatedly has denied a Military Times Freedom of Information Act request for that data".
(Note: You can view every article as one long page if you sign up as an Advocate Member, or higher).