Barry Scott Sussman- Born and raised in New Jersey. Graduated from Rutgers University with a BA in Sociology. Graduated with a JD from the Benjamin Cardozo School of Law specializing in Federal Criminal Procedure and Federal Prosecutorial (more...)

The views expressed herein are the sole responsibility of the author and do not necessarily reflect those of this website or its editors.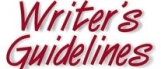 STAY IN THE KNOW
If you've enjoyed this, sign up for our daily or weekly newsletter to get lots of great progressive content.
To View Comments or Join the Conversation: