This piece was reprinted by OpEd News with permission or license. It may not be reproduced in any form without permission or license from the source.
From Alternet
With a sketchy past in the counterterror swamp, Watts has suggested media censorship as a remedy to Russian interference.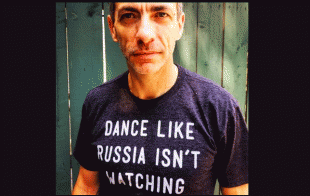 Nearly a year after the presidential election, the scandal over accusations of Russian political interference in the 2016 election has gone beyond Donald Trump and reached into the nebulous world of online media. On November 1, Congress held hearings on "Extremist Content and Russian Disinformation Online." The proceedings saw executives from Facebook, Twitter and Youtube subjected to tongue-lashings from lawmakers like Republican Sen. Chuck Grassley, who howled about Russian online trolls "spread[ing] stories about abuse of black Americans by law enforcement."
In perhaps the most chilling moment of the hearings, and the most overlooked, Clint Watts, a former U.S. Army officer who had branded himself an expert on Russian meddling, appeared before a nearly empty Senate chamber. Watts conjured up a stark landscape of American carnage, with shadowy Russian operatives stage-managing the chaos.
"Civil wars don't start with gunshots, they start with words," he proclaimed. "America's war with itself has already begun. We all must act now on the social media battlefield to quell information rebellions that can quickly lead to violent confrontations and easily transform us into the Divided States of America."
Next, Watts suggested a government-imposed campaign of media censorship: "Stopping the false information artillery barrage landing on social media users comes only when those outlets distributing bogus stories are silenced: silence the guns and the barrage will end."
The censorious overtone of Watts' testimony was unmistakable. He demanded that government news inquisitors drive dissident media off the internet and warned that Americans would spear one another with bayonets if they failed to act. And not one member of Congress rose to object. In fact, many echoed his call for media suppression in the House and Senate hearings, with Democrats like Sen. Dianne Feinstein and Rep. Jackie Speier agreeing the most vehemently. The spectacle perfectly illustrated the madness of Russiagate, with liberal lawmakers springboarding off the fear of Russian meddling to demand that Americans be forbidden from consuming the wrong kinds of media -- including content that amplified the message of progressive causes like Black Lives Matter.