Source: Smirking Chimp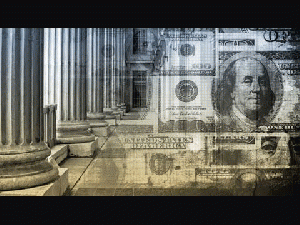 The Supreme Court's
McCutcheon
ruling will be remembered as a decisive battle in a determined and wealthy minority's war against the popular will. It is not the first such battle, nor will it be the last. And the people will continue to lose -- unless and until the rules of engagement are changed.
One compelling way to look at this ruling is by contrasting its immediate and long-term effects with the American people's aspirations for their government. They are at cross purposes. Even before this ruling, 64 percent of those polled believed that our country's economic rules unfairly favor the rich. This ruling will rig the game even further.
(Unless otherwise noted, polling results were drawn from PopulistMajority.org.)
People vs. Money
The immediate effect of this ruling is to give the wealthy even more political power than they have today. That's diametrically opposed to the people's will, since the public clearly wants money out of politics. Seventy-nine percent of those polled in one study support limiting the amount of funds that political candidates can raise and spend. Seventy-one percent believe the candidate with the most money wins. And, despite the fact that neither party is advocating public financing of elections, a Gallup study shows that the idea already has the support of 50 percent of the voters (while only 44 percent oppose it).
In the most striking statistic of all, 97 percent of voters in one poll believe it is important to get corruption out of politics. In his withering dissent, Justice Stephen Breyer makes it clear that this ruling will have the opposite effect. Breyer writes that "the plurality relies heavily upon a narrow definition of 'corruption' that excludes efforts to obtain 'influence over or access to' elected officials or political parties.'"
Justice Breyer notes that, by design, the majority's definition of corruption does not include efforts to "garner 'influence over or access to' elected officials or political parties." Adds Breyer: "We specifically rejected efforts to define 'corruption' in ways similar to those the plurality today accepts."
The public is already feeling alienated from the political process. Eighty-five percent of those polled in another study believe that members of Congress are more interested in serving special interests than the people they represent.
To a large extent, this disaffection is beginning to land on both parties. A study shows that 69 percent of voters believe that the policies of the Republican Party generally favor the rich. No surprise there. But 69 percent believe the Democratic Party should do more to address the needs and concerns of middle-class voters.
Policy for Sale
The long-term effects of this ruling will make it even more difficult for public opinion to influence public policy. As Chris Cillizza and others have explained, national party organizations like the Republican Senatorial Campaign Committee and the Democratic Congressional Campaign Committee will have significantly greater fundraising ability -- and therefore significantly much greater influence over the selection of local candidates and the kinds of campaigns they choose to run.
It's facile to suggest, as some do, that "there is no difference between the two political parties." But they are far closer than they should be, especially at the national level and especially on economic issues. Thus we have the spectacle of a Democratic president proposing Republican-backed cuts to Social Security and Medicare, while those in Washington who express the majority opinion against these cuts are marginalized as "extreme."
In fact, 73 percent of those polled in another study believe that deficit reduction should be secured by raising taxes on the wealthy and not by cuts to Medicare, Medicaid, or Social Security. And yet under this ruling we are likely to see the same undemocratic spectacle repeated again and again, as popular opinion is increasingly marginalized in the mad rush for money.
Altered States
Fundraising committees aren't the only big winners in the McCutcheon ruling. State candidates are also likely to find themselves able to access much larger pools of money, as Cillizza points out. Corporate and billionaire donors have already targeted state governments through the American Legislative Exchange Council (ALEC) and other organizations, and have met with considerable success.
States like Michigan and Wisconsin are feeling the painful effects of this effort in initiatives that include "emergency manager laws" that overthrow city governments, tax breaks for the wealthy and corporations, high-handed moves against unions, and even the notorious "stand your ground" laws that led to the tragic death of young Trayvon Martin.
(Note: You can view every article as one long page if you sign up as an Advocate Member, or higher).