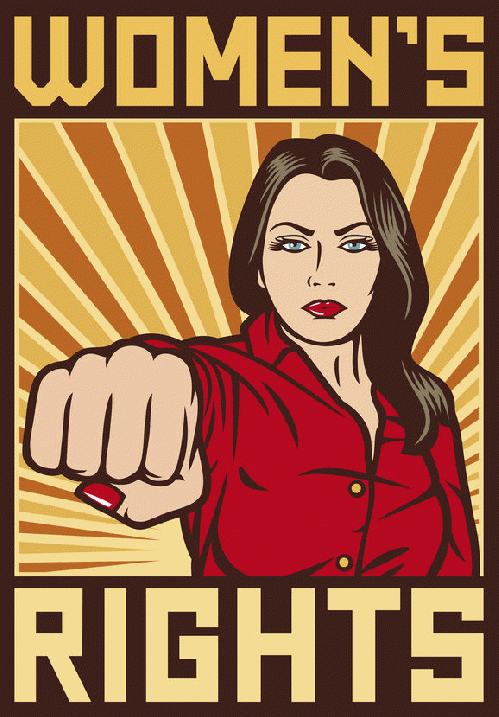 (
Image
by
123rf.com/photo_40035790_womens-rights-poster-pop-art-woman-punching-beauty-girl-punching.html
)
Details
DMCA
As Christine Blasey Ford bravely faces the indignity and insults of Donald Trump, the Republican all white, all male majority of the Senate Judiciary Committee and the prejudgment of foul Senators like Mitch McConnel, it's time for everyone to protest and be heard.

This is not just a woman thing. Guys we're all up to bat. Perhaps we've done harmful things in the past, maybe without even realizing it. Whether we have or not, now is the time to atone and join with all our sisters to put a halt to the travesty of justice being perpetrated even as this article is being written.

A charge has been made against Brett Kavanaugh, nominee for the highest court in the land. If confirmed he will be shaping laws for us, our kids and our grandkids. Perhaps he's guilty, perhaps not.

However, if we are to move forward as an evolved species then we must commit to act on our best impulses -- not our worst!

Do we want to let men like Mitch McConnel who blocked President Obama's Supreme Court nominee for over a year push through a vote in less than a week?
This for a man who will likely spend 30+ years helping an ultra-conservative court make decisions about race, gender, choice and the rights of all?

If the names John G. Roberts Jr., Clarence Thomas, Samuel Anthony Alito and Neil Gorsuch give you cause for concern about the future then fight, fight, fight!

Now I'd like to introduce you to a good friend.
Like Sherlock Holmes' Watson, I've been privileged for years to be Mad Mother Marvel's chronicler. She makes no public appearances. She speaks only in verse.

Iambic pentameter is not her thing. It's all about the message.
Mad Mother Marvel has no patience for weak as water wimps & wusses who stand by and don't speak their minds and act. She is unafraid and, on a crusade, to speak truth to power.
Mad Mother Marvel's message is very clear. If we don't all act now, Republicans on the Senate Judiciary Committee will continue to make a mockery of our judicial system and our Democracy.

(Article changed on September 23, 2018 at 15:21)
(Article changed on September 23, 2018 at 15:27)
(Article changed on September 23, 2018 at 16:01)
(Note: You can view every article as one long page if you sign up as an Advocate Member, or higher).