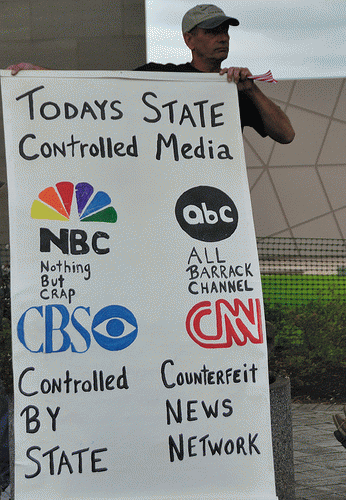 mainstream media protest poster
(
Image
by
Andrew Aliferis
)
Details
DMCA
The day before the California primary the Clinton campaign and the DNC, coordinating with the mainstream American media, engaged in a massive Public relations campaign to sell the false message that the campaign was over and Hillary had won.
This campaign was unprecedented in the unanimity of the mainstream media's cooperation with the Clinton campaign and DNC's message delivery.
The truth, as every Bernie Sanders supporter knows, is that the election will not be decided until the Philadelphia convention. The fact that the mainstream media have pretty much unanimously sold the "Hillary won and it's over" narrative is more an indictment of the mainstream media and evidence of how pathologically corrupted and dangerous the MSM has become.
From Rachel Maddow and the rest of the sellouts at MSNBC to CNN and the other MSM networks and newspapers they've lined up, almost sycophantically, coronating the pretender to the throne.
The lesson we must take from this is that the mainstream media are dangerous, treacherous parts of the establishment, part of the corporate, capitalist system that is predatorily, extractively strip mining the middle class with no interest in survivors. Those smiling faces are serving the billionaires, the CEOS of fortune 1000 companies who earn and keep their jobs by being more sociopathic than the next guy (gender correct since there are so few females as CEOs.)
Of course we should also be speaking out loudly demanding that the MSM continue to include Bernie Sanders as a viable candidate during this interregnum time, before the official candidate is determined. That means including Sanders in polling at state and national levels-- polls that the MSM are paying for. So raise your voices and let the MSM and the superdelegates and the DNC know that they are not off the hook, that their PR campaign has not worked, at least not on the Bernie Sanders supporters, just as their fawning over Hillary during the earlier parts of the campaign failed to hold back the millions who support him. Say it loud. This is not over.