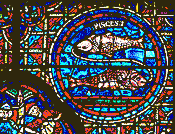 Pisces: Sign of the Fishes
(
Image
by
zodiac-horoscope-pisces-Chartres-Cathedral-Vassil
)
Details
DMCA
While the Sun is in Pisces, our awareness is called back to the Source, after traveling around the whole zodiac. The ocean is an apt symbol of the womb of the Collective Unconscious--the place of memory where we find the essence of what it means to live here on Earth. Love and anger, hardship and plenty, death and birth, family and country--it contains memories of all of life's experiences, human and otherwise. This is where new life gestates. It is the source of the Wisdom of Life, the World Soul.
So after flying to Aquarius' starry heights, we are called to dive into the deepest oceans to regenerate our lives through the agency of those heavenly lights. If we take that photo of Earthrise to heart, we need to get out of the old patriarchal story that refuses to take that image seriously.
We can dissolve the old patriarchal story within us during the Sun's journey through Pisces. Like the Catholic's Lent or Ra's nighttime journey through the Underworld, humans need to take the time to let go of, withdraw from and dissolve what no longer serves our new vision in preparation for the new life of spring.
Your new story of life will shape your energies this year, energies which will emerge into the world with the Spring Equinox. So consider sacrificing and making sacred (Pisces) your daily schedule for the next month by adding some spiritual practices into your day:
1. Find quality quiet time to listen to your body, your heart and your mind.
2. Meditate on letting go of old fears and patriarchal beliefs.
3. Imagine the gift you want to give to the world.
2014 is a 7 year, a year of completion, initiation and conscious choice. The energies are building toward a strong stellar configuration in April, so taking the time now to get balanced and centered will help you tremendously in a few months.
If Winter Solstice 2012 was the end of a great age, then 2013 was the beginning of the next stage--the gestation of a new age. Back in the 60s we sang about it as the Age of Aquarius. Our vision was very idealistic and full of fun. The Baby Boomers are the Pluto in Leo generation, and we not only want to stay young till we die, we want to give our creativity to the world. Now that we're becoming senior citizens, don't you think we're called to step into the world with wisdom and compassion to help our children bring about the changes we envisioned back in the 60s, since the same issues are confronting us once again at this turning point in the cycle between Pluto and Uranus.
(Note: You can view every article as one long page if you sign up as an Advocate Member, or higher).