Like the Oregon anti-government militia occupying federal land and living off our tax dollars, the gun lobby is belligerent and single issue but tiny in actual numbers. The gun lobby is mostly old white men who are being retired by younger Americans who are not enamored with guns. In fact, only 18 percent of US citizens 18 to 25 even own a gun!
How small are the NRA's numbers? The NRA has 5 million members compared with the US's 18 million health care workers who see and treat gunshot injuries and 7.2 million US teachers who worry about more school shootings.
Look what happened in 2005 when the NRA declared a "boycott" of ConocoPhillips because it challenged an Oklahoma law preventing companies from banning loaded guns in employee cars.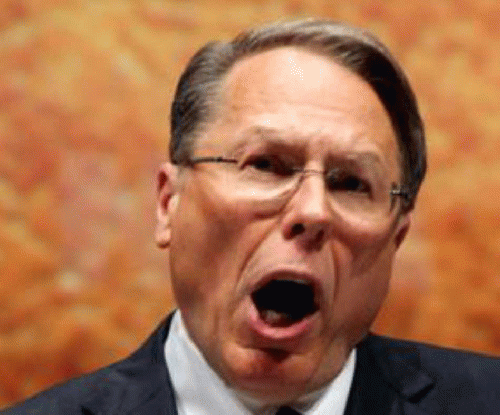 All Hat and No Horse
(
Image
by
Martha Rosenberg
)
Details
DMCA
"ConocoPhillips went to federal court to attack your freedom," thundered Wayne LaPierre, the NRA leader. "We're going to make ConocoPhillips the example of what happens when a corporation takes away your Second Amendment rights. If you are a corporation that's anti-gun, anti-gun owner, or anti-Second Amendment, we will spare no effort or expense to work against you, to protect the rights of your law-abiding employees."
What happened? Nothing. Sales didn't dip, shareholders didn't even notice and the energy giant did not acknowledge the NRA's saber rattling. Ouch.
Three years before ConocoPhillips, the NRA experienced another flop when H&R Block dropped a marketing campaign to make a contribution to the NRA for every member who became an H&R Block customer after an enraged backlash. "The termination of this agreement is a tremendous victory for everyone who was outraged that a reputable business like H&R Block would support an extremist organization like the NRA," said the Brady Campaign to Prevent Gun Violence.
In 2012, National Gun Victims Action Council launched a "Brew not Bullets" boycott of Starbucks for the chain's unwillingness to block guns in its stores. Gun rights advocates quickly mocked the action by congregating at Starbucks--but the sight of belligerent and armed gun lovers paradoxically moved Starbuck to renounce guns in 2013.
Since then, Panera Bread, Sonic Drive-In, Chili's Grill & Bar, Chipotle, Jack in the Box and Target have adopted "no guns" policies--joining Whole Foods, Peet's, Ikea, Disneyland, California Pizza Kitchen, Buffalo Wild Wings, the AMC and Cinemark theaters and as many as 50 others. The companies know people don't want to shop, dine or sit next to loaded guns. (And when the small number of, largely rural, gun advocates says they'll boycott, the companies say "good.")
(Note: You can view every article as one long page if you sign up as an Advocate Member, or higher).