By Dave Lindorff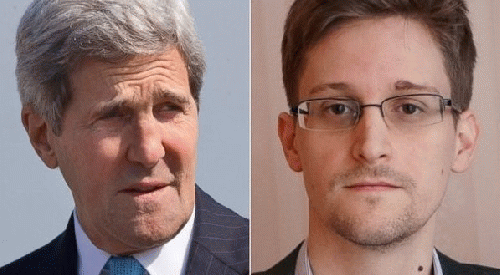 Which guy needs to 'man up' and take a principled stand? (

(

Image

by

ThisCantBeHappening!)

)

Details DMCA
Our prissy Secretary of State John Kerry, hair carefully coiffed for his interview, told NBC's Brian Williams last week that fugitive National Security Agency whistleblower Edward Snowden should "man up" and return to the US to "stand in our system of justice and make his case."
The supposedly "manly" Kerry (whose claim to "courage" is having employed the high-calibre machine gun mounted on his Mekong River gunboat to blow away unarmed fishermen and lightly armed Viet Cong freedom fighters, or having called in air strikes on them) has been hiding his later youthful history of standing up against the Vietnam War, and of condemning American war crimes there. He surely knows from his carefully buried past as a critic of the Vietnam War plenty of fellow American veterans, as well as Vietnam-era deserters and also draft resisters, who did just that -- they "made their case" in "our system of justice." And Kerry also surely knows what happened to them: most ended up getting shuffled off to jail by an American "justice" system that, particularly when it comes to national security and opposition to the state, operates on the Lewis Carroll principle of "verdict first, trial afterwards."
Yet Kerry, in that same NBC interview with Williams, forged right on and, as the fourth man in line under the US Constitution to assume the Presidency if something were to happen to the president, vice president and speaker of the House, declared that Snowden is guilty as charged, saying, "This is a man who has betrayed his country."
Um"What trial decided that, Mr. Secretary? The one you want him to come submit to?
And Kerry is not alone in convicting Snowden in absentia and without a trial. He is only echoing the sentiments of his boss, President Barack Obama, who has already made it clear that he thinks Snowden is guilty under the Espionage Act -- that hoary World War I-era law that his administration has revivified from a legal crypt to prosecute whistleblowers and under which Snowden has been indicted by the US Justice Department. As Obama put it at a White House press conference, "The way in which these disclosures happened has been damaging to the United States and damaging to our intelligence capabilities...I think that there was a way for us to have this conversation without that damage. As important and as necessary as this debate has been, it's important to keep in mind this has done unnecessary damage."
The nation's top prosecutor, Attorney General Eric Holder, has also said he thinks Snowden belongs in the slammer (though he promised Russia that Snowden, if handed over to the US for arrest, would not be tortured, and that if convicted, would not be executed)"
For the rest of this article by DAVE LINDORFF in ThisCantBeHappening!, the new uncompromising four-time Project Censored Award-winning online alternative newspaper, please go to: www.thiscantbehappening.net/node/2340