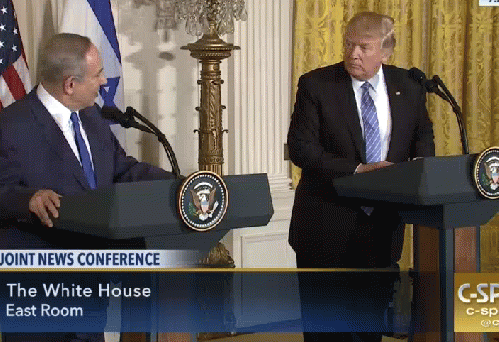 Netanyahu and Trump at joint news conference at White House Wednesday

(

Image

by screenshot)

Details DMCA

The bullying and boasting that brought electoral success to Donald Trump may prove disastrous for the Middle East.

Emboldened by Trump's victory, Israeli Prime Minister Benjamin Netanyahu is dramatically expanding settlements in occupied territory, in defiance of international law.

Until recently, the U.S. and Israel's long-stated goal was having Jewish and Palestinian states existing side-by-side. But at a joint news conference at the White House Wednesday, Trump and Netanyahu changed course.

Trump was nonchalant about a two-state versus one-state solution. "I like the one that both parties like," he said. "If Israel and the Palestinians are happy, I'm happy with the one they like the best."

"He has no idea what's going on," Palestinian-American activist Linda Sarsour said at a protest outside the White House Wednesday evening.

There was one moment at the news conference when Trump attempted to push back on Netanyahu. "I'd like to see you hold back on settlements for a little bit," Trump said. The prime minister offered no commitment to do so.

"There has been no U.S. administration that has been able to hold Benjamin Netanyahu and his government accountable for freezing settlements," said Sarsour. "I don't believe that... Trump is going to be able to do it."

Providing few specifics, both leaders expressed optimism that peace could be achieved by bringing in neighboring Arab countries. But Trump's month, and Netanyahu's years, in office call into question their ability to bring together a diverse coalition.

One of Trump's first major acts as president was to ban travel to the U.S. from seven majority-Muslim countries. The ban was met with mass protests and overturned in court. But Netanyahu was in full support.

"President Trump is right," Netanyahu tweeted. "I built a wall along Israel's southern border. It stopped all illegal immigration. Great success. Great idea."

Trump and Netanyahu are meeting at a time when both leaders plagued by scandal. Perhaps hoping to prop each other up, the two have gone out of their way to support one another.

Even before occupying the Oval Office, President-elect Trump lobbied for the U.S. to veto a U.N. Security Council vote condemning Israeli settlements. But President Obama, ignoring Trump and Netanyahu, broke with the past practice of shielding Israel from international condemnation. The U.S. abstained on the measure, which passed 14-0.

"As to the U.N.," Trump promptly responded on Twitter, "things will be different after Jan. 20th."

Things aren't just different at the U.N.

For U.S. ambassador to Israel, Trump tapped an extremist with limited experience -- apart from serving as Trump's personal bankruptcy lawyer and fundraising for an illegal Israeli settlement.

"Bankruptcy law and involvement with settlements are not normally seen as... appropriate qualifications for the job," former U.S. ambassador to Israel Martin Indyk told the New York Times.

(Note: You can view every article as one long page if you sign up as an Advocate Member, or higher).