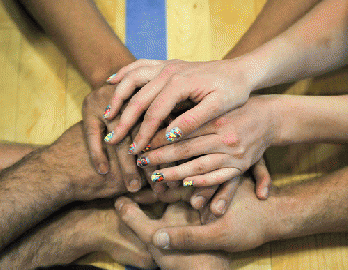 we're all in this together
(
Image
by
The U.S. Army
)
Details
DMCA
Okay, you old white guys had your fun in 2017. You had the monopoly on positional power with the House, the Senate, the Supreme Court and the Presidency. There you were, early in 2017, on the White House lawn, celebrating with grinning happy faces when you almost took healthcare away from 30 million not-rich Americans. But when that didn't work out, you persisted (what courage!) with your donors breathing down your back and were right back on that White House lawn during the compassionate Christmas season, again yucking it up like Uncle Moneybags in Monopoly (I could almost see the monocles and fat cigars) when you stole 1.5 trillion dollars from America's treasury and sadly settled (life can be so cruel for you rich folks) for taking healthcare away from only 13 million not-rich Americans.
But who wouldn't laugh and smile when you rewrote the tax code pretty much behind closed doors amongst yourselves, adding handwritten provisions to your feast that would shovel billions to yourselves, your families, and your donors for many years to come? And even better, when you build that wall and finish up that travel ban against folks who don't believe in your white Christian god and keep incarcerating people of color into the prison-industrial complex, only rich white folks like you will be able to afford those fancy hotel properties on Park Place, Boardwalk, and Mar a Lago. And don't forget those great gifts of our federal park lands in Utah and Alaska you made to your rich fossil fuel friends! They will no doubt amply reward your generous theft with great campaign contributions very soon. Life was indeed pretty, pretty good for you in the top one percent in 2017. Monopoly of the rich, by the rich, and for the rich works out pretty well for the rich. You proved it in 2017. Congratulations.
Okay, you had your 2017 fun. Aren't you sick of playing that Monopoly game though? The rules are rigged in your favor and you always win. Aren't you sick of winning yet? How about we play another game in 2018 called "We're All In This Together"? Try playing that old rarely-used "Share the Wealth" card from Monopoly this time. In this new fair game, everybody gets a chance to play. It doesn't matter if you are rich or poor or female or black or brown or yellow or gay or worship a different god, everybody is welcomed to the game table and everybody can do pretty well. When you pass GO, you don't just get a measly $7.25 an hour. It's been over 8 years since you raised the minimum wage. Why not try $15 an hour this year? You can do that right away without waiting endlessly for cash to trickle down from the skies.
We all know that you can't play the game well if you're sick. Instead of working so hard to take away people's healthcare, figure out a way to get everybody affordable health insurance (and affordable housing). If toxic chemicals or nuclear fallout spills on the game board, we all know nobody really wins. Harness the clean winds and the sun's bright rays for our energy needs instead of going back to burning dirty lumps of coal. Stop wasting money building more nuclear bombs that hopefully we will never use.
We all know that stupid people can't play the game very well. That's why you need to invest in education so that college is affordable to all. We should have leaders in the Department of Education who believe in and will fight for a great public education system for all. By making all these investments in healthcare, renewable energy, and education, and paying a decent livable wage, everybody will get a chance to play and win. Many jobs will be created that will increase the wealth of our nation for everyone.
How about it? Let's play that new game "We're All In This Together" in 2018. If you promise to do that, I may even give you some "Get Out of Jail Free" cards from the old game. When Robert Mueller wraps up his investigation, you may find them quite useful. Happy New Year!