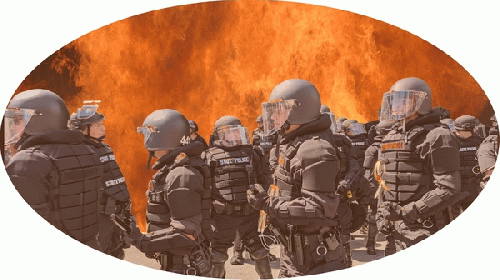 (
Image
by
GorillaWarfare
)
Details
DMCA
What the hell is "law and order?" One very conservative friend defines it as the absence of violence in the cities. Let's go with that - and go on from there. What is the root cause of the violence we're seeing, and what public policies should we bring to bear on the cause?
Today's violence is just the tail end of a continuum. Civil unrest has been part of our American story from the beginning. Since 1960, unrest has been expressed in about 180 major incidents - demonstrations, marches, riots, and massacres. Of these, some were directed against war, labor inequities, integration, prison policy, tax policy, grazing fees on public lands, cultural diversity, and the violation of Native American sovereignty.
But the most frequent cause of these incidents by far was race. And the incidents were often precipitated by violence against people of color. Sometimes, as in the Greensboro Massacre, the violence was perpetrated by the KKK or Nazis. But more often, as in the Jackson State Killings and the Camden Riots, the violence was perpetrated by the police themselves. And way too often, the police violence involved lethal force.
So let's agree that race is a problem in America, even now. More specifically, nine out of ten of us agree that racism and police brutality are real. [click here] So let's put our perception together with the history and ask ourselves, "What keeps us from solving this?"
Answer: We are afraid to confront root causes, and we're addicted to the easy fixes.
What root causes? We know what conditions foster violent crime. They include poverty, homelessness, inequality, poor mental health, and lack of opportunity - and each of these things falls most heavily on people of color for a variety of economic and historical reasons. All of these maladies have solutions, but our nation hasn't had the will or the heart to turn them into public policy. After all, they're all local problems, and our lawmakers all live someplace else.
What easy fixes? It's clear that racial inequality hasn't been solved in centuries, so what is a civilized society to do? Simple. Keep these communities - and their sympathizers - under control with ever greater numbers of well-armed police officers. It doesn't matter why there's civil disobedience, it must be met with whatever force is needed to put it down.
It's just too inconvenient to confront inequality - whether racial, economic, religious, or cultural. And the levers of political power are in the hands of those who fear losing some of it if others are empowered. Besides, real solutions would take decades. And real solutions could never provide the instant gratification of lobbing a tear gas canister into a crowd or unleashing a volley of rubber bullets.
Ironic, isn't it - the response to unrest over police aggression is more police aggression?
"There is no crueler tyranny than that which is perpetuated under the shield of law and in the name of justice."
- Montesquieu