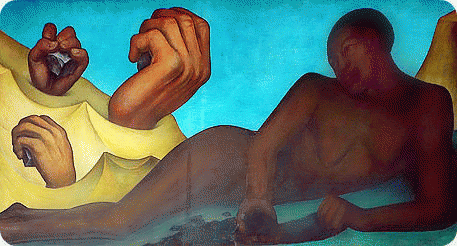 The Diego Rivera Court
(
Image
by
hannibal1107
)
Details
DMCA
Teniente Jose Doroteo Gomez Gomez walked with much difficulty, trailing blood, down to El Rio Bravo. The pinche "El Donald" had finally completed his wall. Entonces, there were now only two places locally that the narcos, drug smugglers, could successfully cross into the States. Antes de completion of the wall across from Ciudad Miguel Aleman, smugglers and those looking for work could pass, not easily, but could pass into Texas. Now it was different. It was much more violent. Ugly. Teniente was not a very religious man; he now carried an amber and mesquite beaded rosary in his pocket. It had been his Great Grandfather's.
Teniente Gomez's Great Grandfather settled in Roma, Texas across from the Mexican village of San Pedro de Roma in 1894. He had been a cobbler in Monterrey and his Mother suggested he move his family to Texas. San Pedro de Roma became the town of Ciudad Miguel Aleman in the 1950's. Epifanio Gomez became successful in the then quietly prosperous town of Roma. His great uncle had moved there in the 1840's to participate in the salt trade between Roma and Monterrey. He later prospered in the cotton trade on the Rio Grande during the American Civil War.
Teniente Gomez's Great Grandfather, against his Great Uncle's strong protestations, crossed back across the border in 1912 and Joined Pancho Villa's forces during the Mexican Revolution. Epifanio Gomez fought valiantly with Villa all across Northern Mexico. Eventually ending up as an assistant to Sam Dreben "The Fighting Jew", the famous American machine gunner that fought with Villa. Teniente's father would threaten him with a beating with "General Obregon's arm" when Teniente was truant or petulant. Obregon lost his arm at the Battle of Celeya. It was part of family mythology that Grandfather Gomez had risked life and limb to rescue the freshly severed arm as a prize for Villa. Teniente's name, Jose Doroteo, was also the name Pancho Villa answered to before becoming a bandit.
Teniente's Great Grandfather never went back across the river. His wife brought the kids and all their belongings across to the Mexican side on a hand pulled ferry. However his extended family, living on both sides of The Rio Grande, passed back and forth just like walking next door...
The hole blown in the calf of his right leg was leaking him away. He couldn't get to the bridge. He believed that he could make it across but there was no way over the wall. His cousin's tire shop was just on the other side. He thought he could smell Delia's carne guisada.
A group of teenagers travelling down the wall, smoking mota, found him lifeless, stiff, his back to the wall and his shirt tied around his leg. They drug him down through the trampled cane, sliding him gently into the current, crossing themselves." From "La Pared" by Franklin Cincinnatus
Real life is complicated. It cannot be contained in a tweet.
Glossary
La Pared -- The Wall
Teniente -- Lieutenant
El Rio Bravo -- Rio Grande River
El Rio -- the river
Entonces -- so
Pinche -- a pejorative related to an english word that starts with F
Antes -- before
Carne guisada -- Mexican stew
Mota -- marijuana