See original here
The Trump administration's new policy "effectively coerces transgender people who wish to serve into choosing between their humanity and their country, and makes it clear that transgender service members are not welcome."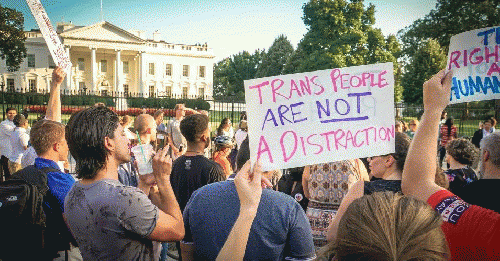 President Donald Trump announced late Friday that his administration planned implement a ban on transgender servicemembers in the military, months after he first threatened a new policy that was rejected by federal courts and the majority of Americans.
(
Image
by (Photo: Ted Eytan/Flickr/cc))
Details
DMCA
The Trump administration's late Friday announcement that it would move ahead with a ban on transgender service members in the military -- which has previously been rejected as unconstitutional in court rulings -- was met with anger and condemnation by LGBTQ rights groups on Saturday.
Chad Griffin@realChad Griffin

@realDonaldTrump's barbaric ban on trans service accomplishes two things: it appeases Pence's radical zealot friends & it weakens our military. That's all. This president will forever be remembered for his bigoted and spineless attacks on trans troops bravely serving our nation. https:// twitter.com/hrc/status/977 356564477734914
Under the new policy proposal, transgender Americans "who require or have undergone gender transition are disqualified from military service," while transgender troops currently serving will essentially be asked to deny their own gender identity, as the Pentagon will be able to demand that they serve according to the gender they were assigned at birth. The Pentagon will also be empowered to make exceptions to the restrictions.

The new policy "effectively coerces transgender people who wish to serve into choosing between their humanity and their country, and makes it clear that transgender service members are not welcome," said Joshua Block, a staff attorney at the American Civil Liberties Union (ACLU), in a memo.

The announcement comes months after Trump first threatened to ban transgender Americans from serving in the military, in a series of tweets last July.

In October, the U.S. District Court for the District of Columbia ruled that such a policy would be unconstitutional because it was based on "disapproval of transgender people generally."

Trump's new policy recommendation is based on a memo written by Defense Secretary James Mattis, who said last month that the presence of transgender troops "could undermine readiness, disrupt unit cohesion, and impose an unreasonable burden on the military that is not conducive to military effectiveness and lethality."

Mattis's claims are contradicted by numerous studies, including a 2016 report by the RAND Corporation which found that transgender service members -- estimated to be 2,000 to 11,000 of the Americans who serve in the military--have had "little or no impact on unit cohesion, operational effectiveness or readiness."

"This is the same reckless ban that has been rejected by the federal courts, the American Medical Association, many bipartisan members of Congress, and most of the American people," said Mara Keisling, executive director of the National Center for Transgender Equality. "Implementing this plan would cause needless chaos and expense for the military and discard valuable personnel with critical skills, not because they can't do their job but because of who they are. As we have heard military leaders and lawmakers of both parties say so many times, any American who can meet the military's tough standards and is willing to risk their life to keep our country safe should be able to serve."

"From the first impulsive tweet, this policy has clearly been driven by an extreme anti-LGBTQ agenda rather than what is in the best interests of our troops and national security," said Sarah McBride, national press secretary for Human Rights Campaign. "Transgender people are enlisting and serving with distinction right now, and there is no legitimate reason to change that."

In a tweeted response to the president's announcement, Vote Vets reminded the Trump administration of the sacrifices that have been made by transgender Americans who have served in the military.

This work is licensed under a Creative Commons Attribution-Share Alike 3.0 License