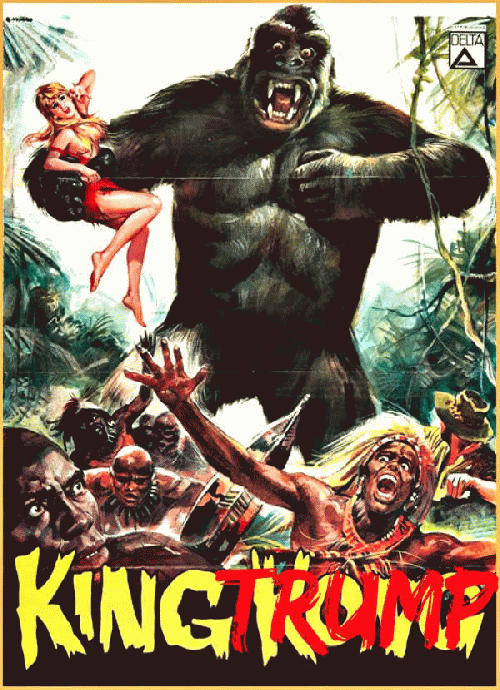 The Horror of Skull Island coming to a town near you!
(
Image
by
(From Wikimedia) RKO Radio Pictures
, Author: RKO Radio Pictures)
Details
Source
DMCA
A lot of people believe "the establishment" is completely against Trump. So the sudden and amazing attempt by James Comey to seemingly swing the election for Trump has come as a shock to those who hold the view that both the Republican and Democrat "establishment" are "all in" against Trump. Most people see American politics as not being controlled by a single group or cabal or club that comprises "the establishment." They believe that what we have in America are different loyalties, affiliations, and sponsorships, based on perceived ability to influence. That sense of shared values from the very wealthy in America of gaining more wealth and power for themselves, is believed to create "the establishment." Most people reject the other type of "establishment"; i.e., the centralized groupthink of a distinct and covert conspiracy of elites.
Many people recoil from "conspiracy theories" precisely because they realize the nature of their own support for politicians is based on a contingent basis of perceived future influence; i.e., if you want to influence politicians in certain ways than your support for them is based on contingencies like: what they have done recently based on influence; who they are close to recently; the political future that lies ahead for them, and so on.
But maybe the thinking about conspiracy theories being a fantasy is a mistake. What if some conspiracies are true? What if groups of very wealthy people from long ago created the ability to influence levers of power in America as an ongoing concern - and which is still ongoing? What if it operates outside of the more seemingly rational sense of a money- and power-based American establishment that most people believe in; i.e., that anyone with enough money and power can be a part of it? Most people believe "the establishment" in America operates based on wealth and power, that if you have enough money and power anyone can be part of the establishment because money and power can buy you access to political influence, which makes you part of the establishment. But what if that is only partly true? What if there is an establishment that you cannot buy your way into in America, and that operates as invitation-only and has been going on for a long time?
Earlier this year I exposed the direct connection of Trump with one of the most well-known conspiracy theories after Hollywood movie producer and ex-Goldman Sachs man Steve Mnuchin was put in charge of Trump's campaign finances; see my article here click here. Steve Mnuchin as it turns out is a member of Skull and Bones.
Skull and Bones is one of the most interesting conspiracy theories simply because it is a real thing. Many conspiracy theories are based on suppositions without any direct proof. Not so with Skull and Bones. They are a Yale senior society that inducts 15 men per year, all of whom make strict vows of secrecy. Bonesmen, as they are known, have a history of great influence in American history, with past members having been among the biggest movers and shakers from American society. Currently some well-known members include George Bush I and II, as well as John Kerry. Also, Stephen A. Schwarzman, founder of Blackstone Group (most powerful investment group in the world); Austan Goolsbee, Chairman of Barack Obama's Council of Economic Advisers. And for all you folks concerned with the massive protests over the pipeline going through Native American lands - the judge who keeps denying them recourse, James E. Boasberg, is also a Skull and Bones member (same year as Mnuchin, 1985).
Skull and Bones is said by researchers to have leveraged their long history of being among America's wealthiest, to ultimately have control over many levers of power in America, not only because of their influence in creating them in the first place, but also in members maintaining ties to them. Their ties to America's intelligence apparatus has been documented by researchers, and it appears to be quite extensive. They have been called "America's secret establishment" by author and Hoover Institute economist and historian Antony C. Sutton, who has written extensively on many aspects of American history not taught in your average school classrooms.
That doesn't mean that all members are close to each other or share values. Members are chosen at Yale during senior year for their past relationships (family connections) or for their personality, smarts, and so on. Many of them have nothing more to do with Skull and Bones after graduation. But as researchers have found, Skull and Bones is believed to be an introduction to a shared value system for inclusion in another group association that begins after graduation. The Yale senior society of Skull and Bones is believed to be a grooming society that serves as a notice to be inspected by the outside group. If they develop qualifications for inclusion in the outside group, in due course of time they are contacted. Some researchers also believe there are similar senior societies from other schools that serve the same purpose.
After I uncovered the Skull and Bones relationship to Trump via Steve Mnuchin, I wondered if that connection would manifest in some way that would be recognizable or if it was just coincidence that Steve Mnuchin was put in charge of Trump's campaign finances. The reason I wrote about that in the first place was because it just seemed odd to me that a very successful movie producer would all of a sudden join up with the Trump campaign in charge of the finances. I am well aware that this is all just conjecture and in reality may all be coincidence. But it would explain the sudden and shocking seemingly blatant political move by James Comey in the face of so much pressure from the Justice Department - and I imagine the Obama administration - to not make such an impact on the election.
My guess is that either Comey has been pressured from an unknown source to influence the election (Skull and Bones?) or he has big information about Hillary Clinton from the laptop of Weiner and Abedin - which supposedly neither Comey nor anyone else saw BEFORE the big announcement from him - since they had no warrant to search through those emails until after the shock and awe of the announcement.
If it is the latter, and they know what is in the emails and that motivated Comey to make the announcement, then it would appear they searched through the emails without a warrant and what they found was shocking enough that maybe Comey wants to get out in front of the coming criminal scandal before the election so he isn't blamed for not doing his job. This may just be about him covering his ass after his investigators went through the emails and found very damning criminal behavior. Or, this could be about Comey exposing that the FBI maybe illegally searched the emails before obtaining a warrant - and thereby Comey is hampering their use in any future legal action against Hillary.
Whatever is going on with Comey, it certainly looks like he is being pressured to help Trump. While the other possible scenarios I laid out may in fact be true, they seem less likely simply because of the timing and the pressure on Comey to not do it. Or, for all we know maybe James Comey is not the non-partisan hero the Beltway crowd has told us about. For all we know he may be a secret right-wing Trumpian fanatic. Or maybe he simply got angry with revelations from Wikileaks about any number of things. Or maybe the secret rulers of Skull and Bones done it!... Happy Halloween all!