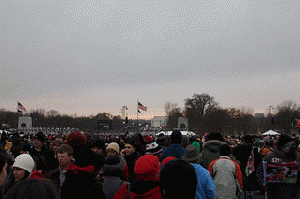 Keeping government bureaucrats off our backs--it's our right and responsibility. Determined citizens make things happen.
(
Image
by
ep_jhu
)
Details
DMCA
"No man in the wrong can stand up against a fellow that's in the right and keeps on a-comin'."--Texas Rangers
In one swoop, on June 22, 2015, a divided U.S. Supreme Court handed down three consecutive rulings affirming the right of raisin farmers, hotel owners and prison inmates. However, this push back against government abuse, government snooping and government theft only came about because some determined citizens stood up and took a stand against tyranny.
The three cases respectively deal with the government's confiscation of agricultural crops without any guarantee or promise of payment (Horne v. U.S. Department of Agriculture); the practice of police gaining unfettered access to motel and hotel guest registries (City of Los Angeles v. Patel); and the use of tasers and excessive force by prison officials (Kingsley v. Hendrickson).
Whether these three rulings will amount to much in the long run remains to be seen. In the meantime, they sound a cautiously optimistic note at a time when police state forces continue to use advancing technologies, surveillance and militarization to weaken, sidestep and flout the Constitution at almost every turn.
In the first case, Horne v. U.S. Department of Agriculture, a 5-4 Supreme Court declared that raisin farmer Marvin Horne deserves to be compensated for the official seizure of one-third of his personal property by the government.
The case arose after independent raisin farmers in California were fined almost $700,000 for refusing to surrender about 40% of the raisins they produced to the government as part of a Depression-era program purportedly aimed at maintaining a stable market for commodities. Marvin and Laura Horne, independent farmers who have been growing raisins for almost half a century, challenged the fine, arguing that the requirement that they surrender, on pain of monetary penalty, a percentage of their property without any guarantee of compensation violated the command of the Fifth Amendment to the U.S. Constitution that private property shall not be taken for public use without just compensation.
The bigger picture: Whether you're talking about raisins confiscated by the USDA, homes expropriated by government agencies under the rubric of eminent domain, or cars and cash seized by asset forfeiture-driven highway police, these various takings all add up to the same thing: government theft sanctioned by an endless assortment of arcane laws. Unfortunately, as I point out in my book Battlefield America: The War on the American People, the lines between private and public property have been so blurred that private property is reduced to little more than something the government can use to control, manipulate and harass the citizenry to suit its own purposes, while 'we the people' have been reduced to little more than tenants or serfs in bondage to an overbearing landlord. This is feudalism revisited.
In the second case handed down on June 22 (City of Los Angeles v. Patel), a 5-4 Supreme Court struck down a Los Angeles ordinance that permits the police to check guest registries at motels and hotels at any hour of the day or night without a warrant or other judicial review.
(Note: You can view every article as one long page if you sign up as an Advocate Member, or higher).