Cross-posted from Mike Malloy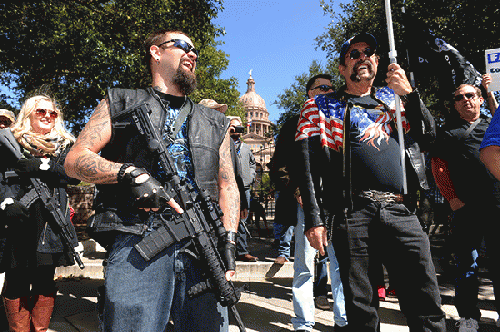 Armed open carry advocates gather in front of the Capitol during South by Southwest.
(
Image
by
PHOTO BY JOHN ANDERSON
)
Details
DMCA
>
How outrageous does a certified gun-nut have to be before the NRA calls them "weird" and "scary?" In a fun little bit of summer entertainment, the NRA has spoken out against "Open Carry Texas," which has become the Westboro Baptist Church of gun organizations, with their in-your-face (and in-your-Starbucks) displays of semiautomatic weaponry.
The New York Daily News has more:
"Even the National Rifle Association thinks some Texas residents are taking public gun toting too far.

"The notorious gun lobby has slapped members of Open Carry Texas as "downright weird" for their insistence on bringing loaded semi-automatic rifles, including AR-15s and AK-47s, into family-friendly establishments like Chipotle and Starbucks.

"The statement, released Friday, came one day before a throng of some 150 people, some armed with semi-automatic rifles and copies of the U.S. Constitution, assembled peacefully outside a Home Depot in North Richland Hills, a Dallas/Fort Worth suburb.

"'We're fundamentally changing America and changing Texas,' Mark Thompson, armed with a Beretta semi-automatic rifle during the rally Saturday,

told the Dallas Morning News.

"We're letting people know they're free."
Truthseekers, do you need to be confronted by a bunch of knuckle-draggers brandishing guns as big as baseball bats outside your home improvement store to explain your constitutional freedoms? Is that what you signed up for on a bright and sunny Saturday morning, on your way to pick up some weed killer and a new fluorescent bulb for the tool shed?
Gotta love it when the NRA feels compelled to eat one of its own. Great stuff. Keep it coming, guys. The midterms are approaching and this is great self-exposure of the idiocy of the proudest Neocons on the block.