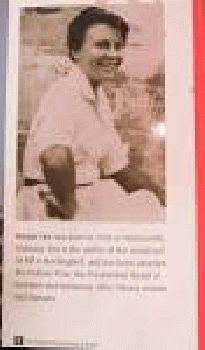 Go Set a Watchman by Harper Lee - Back Flap (t1) | Go Set a . | Flickr598 Ã-- 1024 - 165k - jpg
(
Image
by
flickr.com
)
Details
DMCA
Duluth, Minnesota (OpEdNews) July 4, 2018: Harriet Beecher Stowe (1811-1896) wrote the best-selling sentimental novel Uncle Tom's Cabin (1852). Margaret Mitchell (1900-1949) wrote the best-selling sentimental novel Gone with the Wind (1936), which was made into a popular movie (1939) starring Clark Gable and Vivien Leigh. Harper Lee (1926-2016) wrote the best-selling sentimental novel To Kill a Mockingbird (1960), which was made into a popular movie (1962) starring Gregory Peck as the lawyer Atticus Finch. In relatively short order, Harper Lee became a celebrity. From these three examples, it appears that novel-reading Americans like to read sentimental novels about our dark American heritage of slavery.
Now, in the new book Atticus Finch: The Biography: Harper Lee, Her Father, and the Making of an American Icon (Basic Books, 2018), Joseph Crespino (born in 1972) in history at Emory University in Atlanta, Georgia, highlights how Harper Lee based the character Atticus Finch on her father Amasa Coleman ("A. C.") Lee (1880-1962).
Crespino's book is timely, because he expertly contextualizes Harper Lee's Atticus Finch in the Jim-Crow South. For example, Crespino ably reminds us of the colorful political careers of Huey Long of Louisiana (pages 9, 20-22, 24, 28, 36, and 44), President Franklin D. Roosevelt (pages xviii, 9, 20, 21, 26, 29 34-39, 41, 42, 45-46, 86, 91, 103, and 141), George Wallace of Alabama (pages 42, 108, 109, 141-144, 150-152, 161-163, 169, and 178-181), the U.S. Supreme Court's 1954 ruling in Brown v. Board of Education (pages xviii, 75, 79, 85-89, 92, 94, 95, 97, 115, 117-119, and 158), and the Reverend Dr. Martin Luther King, Jr. (pages xix, 50, 67-68, 79, 81, 115, 130, 131, 159-172, 180, 181). But Crespino does not once mention Trump or the non-college-educated whites who voted from him in the 2016 presidential election.
Now, about Harper Lee's father, Crespino says, "A. C. Lee's father, Cader A. Lee, had fought with the [15th Alabama] regiment for four years, battling Chamberlain's men on the fateful second day at Gettysburg, taking the bloody road south, stacking arms at Appomattox with what remained of the army of northern Virginia" (page 4).
A. C. Lee had only an eighth-grade education, but he read widely, and was well-informed about the issues of the day. Harper Lee's father was a lawyer, state legislator, and newspaper editor in Monroe, Alabama, where she was born and raised. Crespino examined the editorials that A. C. Lee wrote in the Monroe Journal between 1929 and 1947. Crespino discusses more than two dozen editorials that A. C. Lee wrote (see the index for specific page references to his editorials).
Harper Lee's mother was Frances Cunningham Finch (d. 1951 at the age of sixty-two; page 61). Crespino says that "in 1910, the thirty-year-old A. C. Lee had married above his station. Frances Cunningham Finch, nine years his junior, had descended from Virginians who had moved south; her mother's side of the family owned a plantation near Bells Landing on the Alabama River" (page 32). Crespino reports Frances Lee suffered from mental-health problems (pages 33 and 61). Her mental-health problems began "with the birth of her second child, Louise, who had a difficult infancy" (page 33). Crespino says, "A. C. couldn't help his daughter or his wife. They finally found a pediatric specialist in Selma, Dr. William W. Harper, who diagnosed Louise's problem. His aid was so important to A. C. and Frances that they would name their youngest child, Nelle Harper, for him" (page 33). But Crespino does not tell us what the doctor's diagnosis of Louise was. Crespino is also equally vague about Frances Lee's mental-health problems -- which undoubtedly had an influence on Harper Lee as she was growing up.
In any event, A. C. and Frances Lee had four children (page 5): (1) Alice Finch Lee was born in 1911; (2) Frances Louise Lee, in 1916; (3) Edwin Coleman Lee, in 1920; and (4) Nelle Harper Lee, in 1926. Thirty-year-old Edwin Coleman Lee dies in a month after his mother died in 1951 (pages 61-63).
Harper Lee and Truman Capote (1924-1984) were childhood friends, and the character Dill in To Kill a Mockingbird is based on Capote (page 31). In mid-December 1959, Harper Lee joined Truman Capote on a train trip to rural Holcomb, Kansas, to investigate the murder of the Clutter family (pages 119-120). Eventually, Truman Capote's research resulted in the non-fiction novel In Cold Blood (1966), which was made into a movie in 1967.
Now, Crespino says, "As a student journalist at [the University of] Alabama, Harper Lee had written a book review that lumped [Lillian] Smith [1897-1966] in with William Faulkner [1897-1962] and Harriet Beecher Stowe [mentioned above] as writers who had 'embarrassed' the South" (page 116).
Elsewhere in his book, Crespino quotes Harper Lee as saying "[i]n a review of a novel published by an Alabama faculty member [that] '(t)he South has been repeatedly embarrassed by the (Lillian) Smith[s], Faulkners, Stowes, et al., who either wrote delicately of the mint julep era or championed the dark eddies of "niggertown"'" (page 60; parentheses here indicate Crespino's interpolations; the square brackets are my interpolations).
Just to be clear here, I want to say that the darkest eddies involving blacks were the lynching of blacks by white mobs -- such as the lynching by a white mob on June 15, 1920, of three blacks (Elias Clayton, Elmer Jackson, and Isaac McGhie) in Duluth, Minnesota, where I now live.
Lillian Smith's novel about inter-racial romance Strange Fruit (1944) was the target of the young non-conformist Harper Lee's criticism. But Crespino says, "[The Reverend Dr. Martin Luther] King did offer a bit of flattery in 'Letter from Birmingham Jail' when he praised another group of white southerners, one that had 'grasped the meaning of this social revolution and committed themselves to it.' Or, at least, one of those listed, Lillian Smith, would have seen this as flattery. Smith's name appeared second behind that of Ralph McGill, the distinguished editor and publisher of the Atlantic Constitution. Smith had locked horns with McGill for years, criticizing him in the exact terms that King used to denounce white moderates. In fact, King's critique of moderates was anticipated by Smith by more than a decade in her book Killers of the Dream [1949]. 'It is hard to decide which is more harmful to men's morals, she wrote, 'the "moderate" or the reactionary, in this confused South.' Moderates, Smith said, were 'those who spoke for law and order but would not speak against the segregation that threatened law and order; they would protest the lynching of men's bodies but not the lynching of their spirits; they opposed the mob on the street but not the mob in men's minds; they wanted laws obeyed but would not defend the moral values on which law is grounded'" (page 167).
No doubt A. C. Lee did not condone of lynching black men's bodies -- nor did young Harper Lee. No doubt Dr. King and other black civil rights leaders were influenced not only by Gandhi but also by the ancient Hebrew prophets such as Amos. Evidently, A. C. Lee was not fond of the prophet Amos and/or social justice -- and apparently neither was Harper Lee (pages 64-69).
No doubt William Faulkner had "embarrassed" the South, as young Harper Lee says, in some of his unsentimental novels such as Absalom, Absalom! (1936) about our dark American heritage of slavery. But not so much in his unsentimental novels such as The Unvanquished (1938), Intruder in the Dust (1949), and The Rievers (1962). I am belaboring the contrast between Faulkner's sentimental novels and his unsentimental novels to say that Harper Lee's first novel Go Set a Watchman (2015) is comparatively unsentimental -- compared to To Kill a Mockingbird (1960). However, in the final analysis, both of Harper Lee's novels are sentimental.
Now, William Faulkner, an alcoholic, wrote certain unsentimental novels such as Absalom, Absalom! (1936) about our dark American heritage of slavery that did not become best-sellers. Nevertheless, he was awarded the Nobel Prize in Literature in 1949.
(Note: You can view every article as one long page if you sign up as an Advocate Member, or higher).