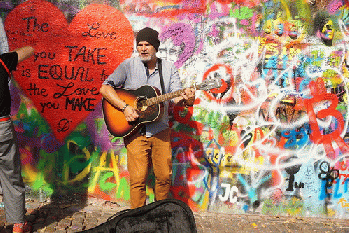 John Lennon Wall, Mala' Strana, Prague
(
Image
by
Andrew Milligan sumo
)
Details
DMCA
John Lennon, born 80 years ago on October 9, 1940, was a musical genius and pop cultural icon.
He was also a vocal peace protester and anti-war activist, and a high-profile example of the lengths to which the Deep State will go to persecute those who dare to challenge its authority.
Long before Julian Assange, Edward Snowden and Chelsea Manning were being castigated for blowing the whistle on the government's war crimes and the National Security Agency's abuse of its surveillance powers, it was Lennon who was being singled out for daring to speak truth to power about the government's warmongering, his phone calls monitored and data files illegally collected on his activities and associations.
For a while, at least, Lennon became enemy number one in the eyes of the U.S. government.
As the New York Times notes, "Critics of today's domestic surveillance object largely on privacy grounds. They have focused far less on how easily government surveillance can become an instrument for the people in power to try to hold on to power."
Indeed, all of the many complaints we have about government today--surveillance, militarism, corruption, harassment, SWAT-team raids, political persecution, spying, overcriminalization, etc.--were present in Lennon's day and formed the basis of his call for social justice, peace and a populist revolution.
For all of these reasons, the U.S. government was obsessed with Lennon, who had learned early on that rock music could serve a political end by proclaiming a radical message. More importantly, Lennon saw that his music could mobilize the public and help to bring about change. Lennon believed in the power of the people. Unfortunately, as Lennon recognized: "The trouble with government as it is, is that it doesn't represent the people. It controls them."
What Lennon did not know at the time was that government officials had been keeping strict tabs on the ex-Beatle they referred to as "Mr. Lennon".
Incredibly, the U.S. government, steeped in paranoia, was spying on Lennon.
By March 1971, when his "Power to the People" single was released, it was clear where Lennon stood. Having moved to New York City that same year, Lennon was ready to participate in political activism against the U. S. government, the "monster" that was financing the war in Vietnam.
The official U.S. war against Lennon began in earnest in 1972 after rumors surfaced that Lennon planned to embark on a U.S. concert tour that would combine rock music with antiwar organizing and voter registration. Nixon, fearing Lennon's influence on about 11 million new voters (1972 was the first year that 18-year-olds could vote), had the ex-Beatle served with deportation orders "in an effort to silence him as a voice of the peace movement".
Lennon was the subject of a four-year campaign of surveillance and harassment by the U.S. government (spearheaded by FBI Director J. Edgar Hoover), an attempt by President Richard Nixon to have him "neutralized" and deported. As Adam Cohen of the New York Times points out, "The F.B.I.'s surveillance of Lennon is a reminder of how easily domestic spying can become unmoored from any legitimate law enforcement purpose."
The government's paranoia, however, was misplaced.
Despite the fact that Lennon was not part of any "lunatic" plot to overthrow the government, the government persisted in its efforts to have him deported. Equally determined to resist, Lennon dug in and fought back. Every time he was ordered out of the country, his lawyers delayed the process by filing an appeal. Finally, in 1976, Lennon won the battle to stay in the country when he was granted a green card.
Lennon's time of repose didn't last long, however. By 1980, he had re-emerged with a new album and plans to become politically active again.
(Note: You can view every article as one long page if you sign up as an Advocate Member, or higher).