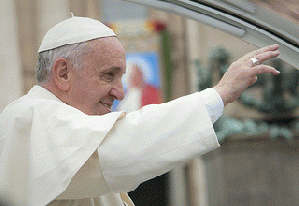 Pope Francis
(
Image
by
Aleteia Image Partners
)
Details
DMCA
Duluth, Minnesota (OpEdNews) May 16, 2015: To my dismay, anti-60s conservatives have effectively used their anti-60 propaganda to recruit and strengthen movement conservatism, as Philip Jenkins shows in his book DECADE OF NIGHTMARES: THE END OF THE SIXTIES AND THE MAKING OF EIGHTIES AMERICA (2006).
Evidently, anti-60s conservatives feel good taking a strong stand against the 1960s.
Unfortunately, progressives and liberals have not effectively countered the anti-60s rhetoric used in movement conservatism -- or pioneered any distinctively progressive and liberal rhetoric to recruit and rally people to a broad-based movement to counter movement conservatism.
But how many Americans today think that we are going to go back to the Jim-Crow era in American culture in the 1950s?
In a similar vein, how many Americans today think that the Roman Catholic Church should go back to teaching the kinds of rubbish that it was teaching in the 1950s? Concerning certain rubbish that the church officially taught in the 1950s and earlier, see Paul Blanshard's books AMERICAN FREEDOM AND CATHOLIC POWER (2nd ed., 1958; 1st ed., 1949) and COMMUNISM, DEMOCRACY, AND CATHOLIC POWER (1951).
Thankfully, the Second Vatican Council (1962-1965) in the Roman Catholic Church officially ended the kind of official ridiculous rubbish that Blanshard criticized -- and certain other official rubbish as well.
Concerning how Vatican II officially changed certain ridiculous rubbish that the Roman Catholic Church had been teaching as late as the 1950s, see Garry Wills' new book THE FUTURE OF THE CATHOLIC CHURCH WITH POPE FRANCIS (2015) and James Carroll's book CONSTANTINE'S SWORD: THE CHURCH AND THE JEWS: A HISTORY (2001).
I know, I know, the Roman Catholic Church still officially teaches a lot of other ridiculous rubbish, especially in its teachings about sexual morality and reproduction and legalized abortion in the first trimester.
But my point is that anti-60s conservatives seem to suffer from nostalgia for the 1950s -- before Vatican II and before the end of the Jim-Crow era in American culture. Fortunately, we Americans today are not likely to return to the Jim-Crow era in American culture, and paleo-conservative American Catholics today are not likely to start spouting certain ridiculous rubbish that the Roman Catholic Church officially spouted before Vatican II.
Unfortunately, Vatican II's welcome reversals of certain official ridiculous rubbish was followed by the reigns of two paleo-conservative popes, John Paul II and Benedict XVI. For a discussion of some of the mischief of those two popes, see Matthew Fox's book THE POPE'S WAR: WHY RATZINGER'S SECRET CRUSADE HAS IMPERILED THE CHURCH AND HOW IT CAN BE SAVED (2011).
Compared to the last two popes, Pope Francis, who by all counts is doctrinally conservative, is a welcome change. But make no mistake about him -- he's a paleo-conservative Roman Catholic, but with a friendly smile and demeanor.
But the title of John L. Allen's new book THE FRANCIS MIRACLE: INSIDE THE TRANSFORMATION OF THE POPE AND THE CHURCH (2015) sounds premature, to say the least. Pope Francis has worked no miracle -- yet. Allen is a seasoned Vatican reporter.
I know, I know, the marketing department may have made up the book's title to appeal to certain people's wishful thinking. The title does appear designed to compete with the title of Austen Ivereigh's book THE GREAT REFORMER: FRANCIS AND THE MAKING OF A RADICAL POPE (2014).
But it's a safe bet that paleo-conservative Roman Catholics are not hoping for Pope Francis to work a miracle. So the title of Allen's appears to be designed to appeal to non-paleo-conservative Roman Catholics such as Carroll whose wishful thinking would welcome a miracle and/or Vatican III -- and certain non-Catholics who are tired of the religious zealotry of anti-abortion cultural warriors.
I know, I know, the official governance structure of the Roman Catholic Church is characterized as a monarchical model of governance -- with the pope serving as the supposed monarch. This appears to be a top-down governance structure.
Now, most Americans have figured out that the president of the United States is not a top-down monarch ruling over the United States. In our government, we famously have a system of checks and balances, so that the president actually does not function as a monarch.
(Note: You can view every article as one long page if you sign up as an Advocate Member, or higher).