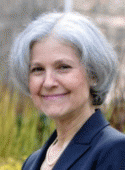 Jill Stein
(
Image
by
Jill Stein
)
Details
DMCA
Imagine stepping outside the D-Box and R-Box boundaries to evolve the better America we know is possible
Jill Stein has declared a people-powered campaign to become the Green Party's 2016 nominee for president of the United States. Jill is an organizer, physician, and pioneering environmental-health advocate. She has led initiatives promoting healthy communities, local green economies and the revitalization of democracy -- addressing issues such as campaign finance reform, green jobs, racially-just redistricting, and the cleanup of incinerators, coal plants, and toxics. She was a principal organizer for the Global Climate Convergence for People, Planet and Peace over Profit. Jill is a mother, physician, longtime teacher of internal medicine, and pioneering environmental-health advocate.
"We are being battered by unemployment, inequality, poverty, injustice, endless war, impending climate catastrophe, and a broken, corrupt political system. There are solutions for all these problems, but they're being blocked by political parties that serve the corporate elite, not the people. We need a new way forward that puts people, planet and peace over profit. My campaign is dedicated to empowering the American people to make real the promise of democracy, and set our own course toward a brighter future. If not now, when? For our families, our communities, and our Earth, let's come together to create the better America we know is possible. It's in our hands!"
Jill's "Healthy People, Healthy Planet" teaching program reveals the links between human health, climate security, and green economic revitalization. This body of work has been presented at government, public health and medical conferences, and has been used to improve public policy.
Question I have is how will her run be influenced by Bernie Sanders and how will her running affect the potential of moving beyond republican/democrat stronghold anchored in corporate money? I also wonder if she and Bernie would be able to unite to make their ticket more powerful? Of course I don't consider myself as an expert in politics. My expertise is more in psychology, mythology, spirituality, and systems theory in relationship to natural process.

Ms. Stein will be interviewed by this author and his wife on Envision This! The interview will be tonight, July 2, 2015 at 8:00 PM Eastern Time. You can call in with questions at 646-652-2235. The url for the show is: click here. The show is on archives forever, so if you miss the live broadcast, you can listen on - demand.