In a strong statement that challenges the historic divide between Christianity and Judaism, Pope Francis recently proclaimed, "Inside every Christian is a Jew." But if you look at Renaissance artworks that depict Jesus, you will not find any evidence of a Jew inside the Christianized Jesus --even though the Gospels in the New Testament tell us that Jesus was Jewish to the core.
Getting that point across to the public is a daunting task, as I learned in interviews I conducted for my book Jesus Uncensored: Restoring the Authentic Jew. It's true that many of the people I talked to acknowledged that Jesus was Jewish. But when I questioned them further it turned out that "of course he was Jewish" really meant "he used to be Jewish." Recently I've discovered that some people firmly state that Jesus was Jewish but at the same time deny it. For example, Bill O'Reilly, in his book Killing Jesus, depicts a thoroughly Jewish Jesus who remained dedicated to Judaism throughout his life. Even at the end of his physical life, as he faced crucifixion, Jesus' followers recognized him as Rabbi Jesus. And O'Reilly agrees with scholars who have noted that Jesus' conflict was not with Jews or Judaism but with the leadership that he charged with excessive pride for their emphasis on superficial displays of piety rather than focusing on the spiritual teachings of the Torah. O'Reilly writes:
"Everything they do [the Temple leaders] is for men to see, he [Jesus] tells the crowd they make their phylacteries [tefillin] wide and the tassels on their garments long. They love the place of honor at banquets and the most important seats in the synagogues...He [Jesus] denounces them for focusing on such trivial details of religious life as whether to tithe their allotment of herbs and spices, in the process completely missing the true heart of God's law."
That's why I was surprised when O'Reilly attacked me on his TV show (The O'Reilly Factor) for stating that Jesus was a dedicated Jew who didn't propose or start a new religion. First O'Reilly said, "Of course I affirmed that because it's true." Then O'Reilly switched gears and accused me of being "off the rails" for my critique of Renaissance art for denying Jesus' Jewish identity and presenting him as Christian. I had cited as an example a fifteenth-century painting by Jan Swart van Groningen in which Jesus is holding a crucifix--an image like many other Renaissance paintings in which baby Jesus is pictured holding, or is in the presence of, a crucifix and other Medieval and Renaissance Christian images. I had pointed out that these images are alien to Jesus' origin and heritage, and I reiterated that Jesus did not launch Christianity. "That is false," snapped O'Reilly. "He [Jesus] clearly instructed his disciples to teach a new theology."
Too bad that O'Reilly didn't have the opportunity to tell that to the disciples of Jesus who, after the crucifixion, continued to identify with Judaism and to worship and preach in the Temple in Jerusalem. For three decades the disciples, led by Peter and Jesus' brother James, argued with Paul in defense of orthodox Jewish doctrines; the disciples considered their theology Jewish revisionism not a new religion.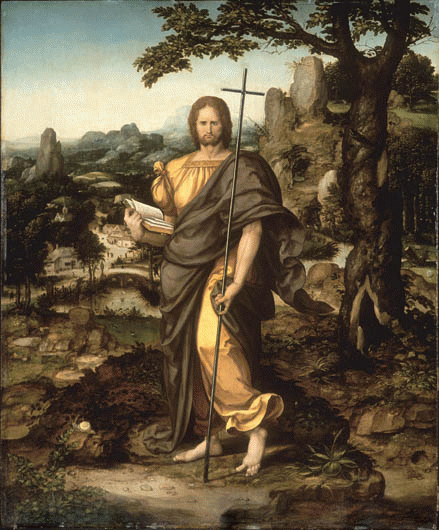 Christ in a Landscape

(

Image

by

Musee des beaux-arts de Montreal

)

Details DMCA



Bill O'Reilly is not alone in his belief that Jesus was Christian and that he started a new religion. Many other pundits and lay people believe that as well. A massive body of artworks denying Jesus' Jewish identity has supported the contradiction of the Jewish Jesus of the Gospels and the Christian Jesus of Renaissance art. More puzzling and disturbing, though, is the failure of the art world to acknowledge and expose the falsification of Jesus' identity in artworks. The extensive commentaries on Renaissance art in museum exhibits and art books give detailed descriptions and analyses of the fine points and technical features of the works but ignore one of the most glaring features: the falsification of biblical history in denying Jesus' Jewish identity.
For example, Dennis Geronimus, associate professor and chairman of art history at New York University, in his lavishly illustrated scholarly biography of Renaissance artist Piero di Cosimo, writes at length about Piero's artistic brilliance. Geronimus also informs us that "X-radiography, infrared reflectography, and raking light photographs, together with pigment analysis reports," have been applied to Piero di Cosimo's paintings to uncover stages in his creative process.
But like other commentators on Renaissance depictions of Jesus, Professor Geronimus makes no mention of the obvious historical falsifications in many of Piero di Cosimo's religious paintings (which do not require x-rays to uncover), such as Holy Family With Saint Joseph, Young Saint John the Baptist and Angels.
The Holy Family and John the Baptist are presented in this painting (and others) as Christian, emphasized by the crucifix, which actually was a hated symbol in the first century and certainly not a devotional object. In fact, according to the Gospels, John the Baptist, Jesus, Mary, and Joseph were dedicated to Judaism; Christianity did not even exist as an idea during their lifetimes.
In February 2015 the National Gallery of Art in Washington DC will launch an exhibit of the works of Renaissance artist Piero di Cosimo(1462-1522), curated by Gretchen Hirschauer in association with Dennis Geronimus. Many of the works that will be included in the exhibit are still housed in the churches for which they were produced. The National Gallery exhibit will, no doubt, be enthusiastically received by the art world and art lovers, since the last limited exhibition of Piero di Cosimo's art was in 1938 at the Schaeffer Galleries in New York City. In an interview with the New York Times about the forthcoming exhibit, curator Gretchen Hirschauer said: "He's an artist whose time has come." Isn't it also Jesus' time to finally be recognized as the Jew he was and not the Christian, without any connection to Judaism that is portrayed in Renaissance artworks?
The National Gallery exhibit is an opportunity for art historians and biblical scholars to take a bold step in acknowledging the falsification of biblical history in artworks. The truth will take nothing away from the genius of Piero di Cosimo and other master artists. But putting Judaism back in the picture would provide a long overdue redress. It would also resonate with Pope Francis' healing affirmation: "Inside every Christian is a Jew."