Reprinted from Campaign For America's Future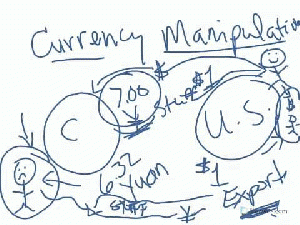 Currency Manipulation - the sad, somewhat subtle, and grossly under-reported impact proactive currency devaluation has on taxpayers
(
Image
by Martin Mazorra, Channel: martysview1)
Details
DMCA
Many in Congress have been concerned about the effect of currency manipulation on our country's ability to sell things to the world. They demanded that the Trans-Pacific Partnership (TPP) outlaw the practice. The administration promised that the TPP and accompanying side agreements would do that.
Now Japan's finance minister has said that the TPP will not change Japan's currency practices. Now what?
Currency Manipulation
If a country's currency is "weak," it means that it's "price" is low, and things made in that country therefore cost less in world markets than they otherwise would. So things made or done there cost less than things made done in countries with "strong" currencies. Therefore countries with "weak" currencies get more business and can employ more people.
"Currency manipulation" is the term for what happens when a country takes steps to make its currency worth less than functioning markets would price it. Some countries manipulate their currencies to make them "weak" so they can get more business and employ more people than they would if markets were setting the correct currency rates. (It's complicated; see "What Is Currency Manipulation?" for a more complete explanation.)
This currency manipulation is bad for American companies that make and do things that they sell outside the U.S. ("Main Street"). It has been and is an especially big problem for America's manufacturing industries, costing millions of jobs and increasing our country's enormous, humongous trade deficit. Some estimates say it has cost us up to 5.8 million American jobs.
But it is good for investor types, etc. ("Wall Street") with a ton of money who want to pay people less and pocket the difference, or to buy and control things in the rest of the world. So who wins...
TPP Text And Side Agreements
During the "fast track" fight over the trade promotion authority bill, which sets aside normal congressional and constitutional procedure for approving trade agreements, promises were made about addressing currency manipulation, in exchange for votes. Those promises have not been met.
TPP does not address currency manipulation, but was accompanied by a "Joint Declaration of the Macroeconomic Policy Authorities of Trans-Pacific Partnership Countries." This declaration says, specifically:
" -- All TPP countries commit to avoid unfair currency practices and refrain from competitive devaluation.

"-- TPP countries will publicly report their foreign-exchange intervention and foreign reserves data, some for the first time.

"-- Officials from all TPP countries will consult regularly to address macroeconomic issues, including to engage on efforts to avoid unfair currency practices.
If this doesn't sound particularly convincing and enforceable, that is because it isn't. In "The Trans-Pacific Partnership's biggest failure" at The Week, Jeff Spross explains the problem and damage of currency manipulation and the problem of enforcement in TPP and says:
"...it doesn't appear to include any language on reciprocity -- allowing us to go into financial markets and buy another country's currency if they're going in and buying our dollars. Nor does the side pact carry the enforcement bite of the official TPP agreements. Its main enforcement mechanism is the honor code of diplomatic pressure.