From Mike Malloy Website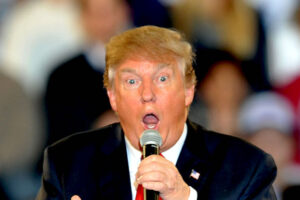 Trump has gone off the deep end. Again. This time he's blaming everyone from Saturday Night Live to the lying media for his falling poll numbers. Except they're not really falling, you see. That's just part of a plot to rig the election. Actually his popularity is approaching 90%. But the biased news outlets won't report it fairly because they don't want him to win.
What a tool. The media has been giving him a pass since the beginning -- are you kidding me? You could argue that "the media" is the only reason he's the GOP nominee! They legitimized him, so what's he complaining about? Without the media reporting his every deranged Tweet, he would've disappeared after the first primary debate when he affirmed that he called Rosie O'Donnell a fat disgusting pig.
And Saturday Night Live is conspiring against him, too? Did he take an extra dose of paranoid pills before he made that declaration? Geez, he hosted SNL a year ago. Well, when this nightmare is finally over next month, Donald can team up with his psychotic media hero Alex Jones and start the alt-right InfoWars TV network (with Ailes and Hannity, natch).
Then there's the latest Wikileaks dump revealing everything you would expect Hillary to say to a Wall Street audience. Clinton's three speeches to Goldman Sachs muckety mucks are hardly surprising, with a subtle wink and a nod about political positions and regulations.
Still, it's the stuff Sanders and his supporters were warning about during the primaries. So riddle me this, Truthseekers: If Julian Assange has such a vendetta for Hillary, why not release these transcripts when they could've prevented her from becoming the DNC nominee? Sure would've been a boon to team Bernie ... does Assange hate him, too?
Doesn't matter. After all, the system is rigged and the fix is in, right?
My brain hurts.