Reprinted from Middle East Eye
Palestinian leaders in Israel warn that Netanyahu is exploiting Paris attacks to "shut door" to minority's political activity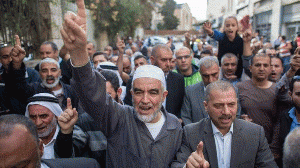 Leader of the Islamic Movement in Israel, Sheikh Raed Salah
(
Image
by
Twitter User eu504
)
Details
DMCA
Nazareth, Israel -- The decision by the Israeli government on Tuesday to outlaw the country's main Islamic Movement marks a dangerous turning point in Israel's relations with its large Palestinian minority, Palestinian leaders in Israel have warned.
The decision effectively drives underground a religious, political and social movement representing the views of a sizeable portion of Israel's 1.6 million Palestinian citizens, comprising a fifth of the population.
Jamal Zahalka was among the Palestinian members of the Israeli parliament who called the move a "declaration of war" against the country's Palestinian minority.
"It is an attack not just on the northern Islamic Movement but on our entire community," he told Middle East Eye.
He and other community leaders noted that the Islamic Movement has not used or called for violence. He said the ban was driven solely by the agenda of Prime Minister Benjamin Netanyahu and the Israeli right.
"Netanyahu is a leader who needs to create enemies," Zahalka said. "The recent US deal with Iran deprived him of his main bogeyman. The PA is helping him with security in the West Bank. Gaza is quiet. So he makes an enemy of the country's Palestinian citizens.
"In the elections [in March] he began his ugly incitement by saying we were coming out to vote 'in droves.' Now he has the Islamic Movement in his sights. But he won't stop with this."
Netanyahu first mooted plans two years ago to shut down the northern wing of the Islamic Movement, led by Sheikh Raed Salah.
However, fear of international condemnation, as well as advice from his intelligence services that such a step could not be justified on security grounds, appeared to stay his hand.
Declared "illegal organization"
Asad Ghanem, a politics professor at Haifa University, said Netanyahu had moved now to exploit the attacks in Paris last Friday, which were claimed by Islamic State (IS) and left 129 dead.
"He is making an entirely false comparison between the Islamic Movement and the most violent armed Islamic groups so that he can persuade the Europeans that this is connected to their fight against terror," he told MEE.
Declaring the northern Islamic Movement an "illegal organization," Netanyahu said it "denies [Israel's] right to exist and calls for the establishment of an Islamic caliphate in its place."
Early on Tuesday morning, police raided the movement's head offices in Umm al-Fahm, as well as dozens of Islamic charities and welfare associations in communities such as Nazareth, Jaffa, Kfar Kana, Turan, Beersheva and Rahat.
Some 17 related organizations were also served with orders shutting them down. The group's leaders were called in for questioning. Computers and documents were seized and the organizations' bank accounts frozen.
(Note: You can view every article as one long page if you sign up as an Advocate Member, or higher).