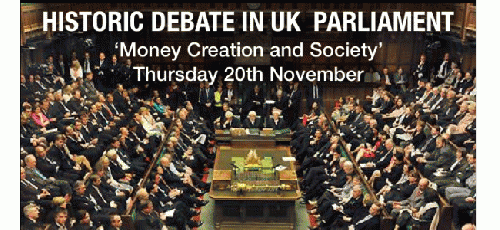 A major reform of money creation will be debated November 20, 2014 in the U.K. Parliment

(

Image

by

Positive Money

)

Details DMCA



A major 3-hour debate on where money comes from will take place November 20 in the U.K. Parliament, on live TV, with mainstream political and media figures for the first time questioning the need for debt-based money. Long-time Monetary reformer, documentary film-maker and former Libertarian presidential candidate, Bill Still reports:


The Positive Money group Still refers to has been one of the major forces behind this. I met their young, energetic founder, Ben Dyson, briefly when he lectured at the New York City Henry George School a couple of years ago. Although only a few years old, Dyson's group has become a major force in seeking to overturn the centuries-old (in the U.K.) system of creating money as debt by banks. They have made several well-produced and succinct videos on the subject, even enlisting the participation of leading bankers and political figures.
Here is their position - which is very close the American Monetary Institute position with whom they sometimes coordinate their efforts. The movement to create debt-free money is gaining mainstream support, which is absolutely critical to winning over politicians. who will otherwise be corrupted and swayed by the powerful banking elite that controls when and how money is created now.


The money that banks create isn't the paper money that bears the logo of the government-owned Bank of England. It's the electronic deposit money that flashes up on the screen when you check your balance at an ATM. Right now, this money (bank deposits) makes up over 97% of all the money in the economy. Only 3% of money is still in that old-fashioned form of real cash that you can touch.

Banks can create money through the accounting they use when they make loans. The numbers that you see when you check your account balance are just accounting entries in the banks' computers. These numbers are a 'liability' or IOU from your bank to you. But by using your debit card or internet banking, you can spend these IOUs as though they were the same as 10 notes. By creating these electronic IOUs, banks can effectively create a substitute for money.

The following video from the Bank of England explains how money is created by commercial banks:
I've written about this issue many times on Opednews, including here, here, and here.
This may be the time not only for Monetary Reformers, but for the U.K. And if the U.K. "switches over" to a Public Option for Money, as Max Keiser put it, America, which bases its private money-creation model on the U.K.'s going all the way back to the founding of the country, and even before, going back to Ben Franklin and the colonial script, will at least have to address the issue of why we need private banks to create our supposedly Sovereign Money. As it says in the constitution's Article 1, Section 8 Coinage clause: Congress shall have the power "To coin Money, regulate the Value thereof, and of foreign Coin,..."* SCOTUS upheld the right of Congress to create paper money as well in Julliard v. Greenman and our most famous example on which this 1884 8-1 decision was based, was United States Notes, which lasted 14 series from 1862 - 1971 (in circulation until 1996).
No nation can be truly sovereign if it cannot create its own money.

* Note that the 'c' in "coin" is on lower case when "coin" is used as a verb as in "to create" but as an upper case 'C' when used as a noun to refer to actual Coins.