This piece was reprinted by OpEdNews with permission or license. It may not be reproduced in any form without permission or license from the source.
Source: AlterNet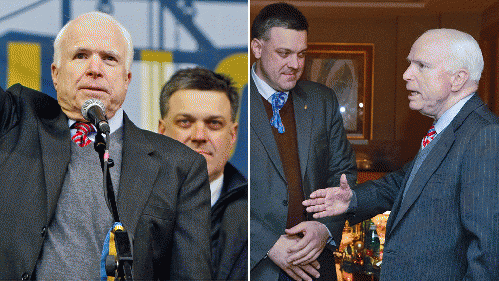 John McCain with leader of the Neo-Nazi Svoboda Party Oleh Tyahnybok. McCain on a "Business Trip" to Kiev

(

Image

by

(Source Business Insider)

)

Details DMCA


As the Euromaidan protests in the Ukrainian capitol of Kiev culminated this week, displays of open fascism and neo-Nazi extremism became too glaring to ignore. Since demonstrators filled the downtown square to battle Ukrainian riot police and demand the ouster of the corruption-stained, pro-Russian President Viktor Yanukovich, it has been filled with far-right streetfighting men pledging to defend their country's ethnic purity.