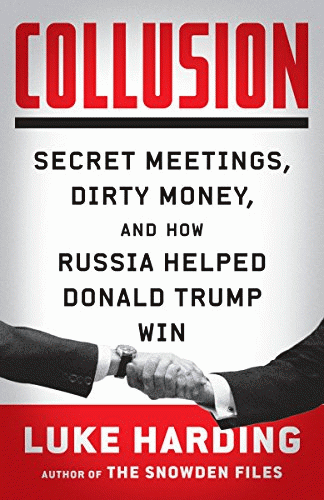 Rick Harding's book, Collusion
(
Image
by
Amazon.com
)
Details
DMCA
Will Luke Harding's forthcoming book -- Collusion: Secret Meetings, Dirty Money, and How Russia Helped Donald Trump Win--deliver the long sought after conclusive confirmation of collusion? We will find out on November 16th when his book, published by Penguin Random House in the U.S., will be released in ten countries.
The secrecy surrounding the production of Harding's book suggests he has explosive new evidence: "The book itself was kept secret until now, edited offline, with tight security among the publishing players, and all communications about the project were conducted in encrypted format."
Last year Luke Harding, an award-winning journalist for the Guardian, interviewed Christopher Steele, the ex-MI6 officer who penned the controversial "Steele Dossier," which is reputedly filled with allegations about Donald Trump. Harding claims his book will furnish "exclusive new material and key sources from the intelligence community."
According to the publisher, Harding "exposes the disquieting details of the 'Trump-Russia' story--a saga so huge it involves international espionage, off-shore banks, sketchy real estate deals, mobsters, money laundering, disappeared dissidents, computer hacking, and the most shocking election in American history."
The Trump administration will surely be in full battle mode on November 16th ready to fire missiles of denial and accusations of fake news, as evidence, facts, and eyewitness accounts fly at them from every direction.
How this faceoff plays out may determine the fate of the Trump presidency and the fate of many in his administration. After the indictments of Paul Manafort, Trump's former campaign chairman, and Rick Gates, senior campaign aide and business associate of Manafort--with other indictments looming,--Trump and company must know that their tactics are ineffective against the steady march of the legal system, where testimony and facts count.
Stay tuned. The tide is shifting. Support for Trump is sinking. His approval rating is at a new low. Key Republicans like Senator Bob Corker (Tennessee) and Senator Jeff Flake (Arizona) have defected; they are retiring and are speaking out vigorously against Trump. And the impressive Democratic victories in the Governor races in New Jersey and Virginia on November 7th send a strong message to other Republicans in Congress.
Don't be surprised if this sparks a stampede of Republicans into lifeboats, desperately seeking to distance themselves from the captain of the ship of state.