Thanks to Walter Palmer, the Minnesota dentist who killed Cecil the lion, the public may be losing its tolerance for gratuitous killing of exotic, wild game.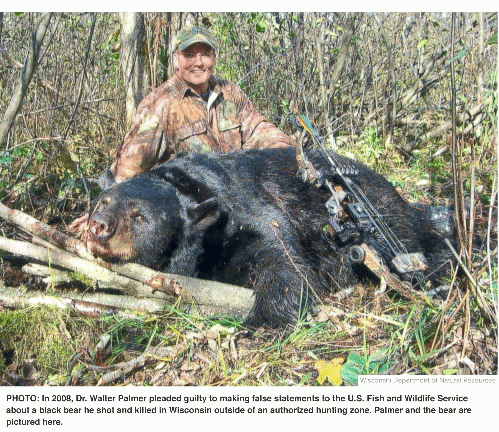 Walter Palmer, the Minnesota dentist who killed Cecil

(

Image

by

Martha Rosenberg

)

Details DMCA

While we know safari trophy hunting was a part of the US past including Ernest Hemingway and even the Eagle Scouts, many did not realize it is still thriving.

Safari Club International (SCI) which sponsored Palmer's lethal deed, give no lip service to conservation or skill like some hunting groups. It holds extreme killing derbies that celebrate slaughter like "The African Big Five" club in which hunters try to kill a lion, leopard, elephant, African buffalo and rhinoceros and the "African 29" club in which hunters kill 29 different animals including a lion, leopard, elephant, rhinoceros, hippopotamus, buffalo, three kinds of antelopes, a wildebeest, impala, gazelle and many more. There is also a club for "hunters" who have killed more than 300 species on six continents like a National Geographic for the bloodthirsty.

In 2006, SCI defeated an amendment to the Marine Mammal Protection Act in the House of Representatives that would have banned the import of sport-hunted polar bear trophies from Canada. Since Cecil, 30 airlines have refused to ship big game trophies.

SCI has programs to extend the fun of killing to physically incapacitated hunters, even if the animals have to be baited or held in position. On its website, SCI boasted how its Safari Wish program enabled a spina bifida patient to kill a greyhound-sized young doe from his wheelchair. Whee. The young man missed two hogs eating at a feeder and likely baited but got the doe because "the Hunt Club suspended the deer harvest rules for his hunt" said SCI.

In an attempt look altruistic rather than sadistic, SCI seeks to give the poor and hungry the carcasses its hunters never wanted to eat in the first place. But in 2008, health officials told food pantries to reject the meat because of lead fragments from bullets leaving SCI with 317,000 pounds of meat "harvested" for no reason. "This is disheartening, and we certainly don't think this program should come to an end on the unscientific assessment that has occurred here," lamented SCI lawyer Doug Burdin.

You Don't Have to Go to Africa to Kill a Zebra

There is so much money in shooting exotic animals, trophy operations have sprung up in the US. "Hunters" can shoot zebras and other exotic animals at operations like Circle E in Bedias, TX and Heartland Wildlife Ranches in Ethel, MO for as much as $6,500 a head. "Hunters come from across the country to take aim at trophy animals" which include zebras reported the St. Louis Post-Dispatch. A three-day hunt for water buffalo at the Heartland costs $4,000.

(Note: You can view every article as one long page if you sign up as an Advocate Member, or higher).