Reprinted from Consortium News
Former Secretary of State Hillary Clinton has dismissed Sen. Bernie Sanders questioning her qualifications to be President as "silly" -- and looking at her resume alone, she'd be right -- but there is also the need to judge her performance in her various jobs.
What is troubling about Clinton's record is that she has left behind a trail strewn with failures and even catastrophes. Indeed, her highest profile undertakings almost universally ended in disaster -- and a person's record should matter when voters are deciding whether to entrust him or her with the most powerful office on earth.
In other words, it's not just a question of her holding one prestigious job or another; it's also how well she did in those jobs. Otherwise, you have a case of the Peter Principle Squared, not just letting someone rise to the level of his or her incompetence, but in Clinton's case, continuing to get promoted beyond her level of incompetence.

So, looking behind Clinton's resume is important. After all, she presents herself as the can-do candidate who will undertake small-scale reforms that may not move the needle much but are better than nothing and may be all that's possible given the bitterly divided Congress.
But is Hillary Clinton really a can-do leader? Since she burst onto the national scene with her husband's presidential election in 1992, she has certainly traveled a lot, given many speeches and met many national and foreign leaders -- which surely has some value -- but it's hard to identify much in the way of her meaningful accomplishments.
Clinton's most notable undertaking as First Lady was her disastrous health insurance plan that was concocted with her characteristic secrecy and then was unveiled to decidedly mixed reviews. Much of the scheme was mind-numbing in its complexity and -- because of the secrecy -- it lacked sufficient input from Congress where it found few enthusiastic supporters.
Not only did the plan collapse under its own weight, but it helped take many Democratic members of Congress with it, as the Republicans reversed a long era of Democratic control of the House of Representatives in 1994. Because of Hillary Clinton's health-care disaster, a chastened Democratic Party largely took the idea of providing near-universal health-insurance coverage to Americans off the table for the next 15 years.
In Clinton's next career as a senator from New York, her most notable action was to enthusiastically support President George W. Bush's Iraq War. Clinton did not just vote to authorize the war in 2002, she remained a war supporter until 2006 when it became politically untenable to do so, that is, if she had any hope of winning the Democratic presidential nomination against anti-war Sen. Barack Obama.
Both in her support for the war in the early years and her politically expedient switch -- along with a grudging apology for her "mistake" -- Clinton showed very little courage.
When she was supporting the war, the post-9/11 wind was at Bush's back. So Clinton joined him in riding the jingoistic wave. By 2006, the American people had turned against the war and the Republican Party was punished at the polls for it, losing control of Congress. So it was no profile-in-courage for Clinton to distance herself from Bush then.
Not Learning Lessons
Still, Clinton seemed to have learned little about the need to ask probing questions of Bush's team. In November 2006, she completely misread Bush's firing of Defense Secretary Donald Rumsfeld and replacing him with ex-CIA Director Robert Gates. Serving on the Senate Armed Services Committee, Clinton bought the conventional wisdom that Gates's nomination meant that Bush was winding down the Iraq War despite warnings that it actually meant the opposite.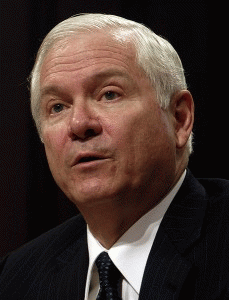 (
Image
by
(From Wikimedia) Defense Dept. photo by Cherie A. Thurlby
, Author: Defense Dept. photo by Cherie A. Thurlby)
Details
Source
DMCA
If Clinton had done any digging, she could have discovered that Rumsfeld was dumped not because of his warmongering but because he backed his field generals -- George Casey and John Abizaid -- who wanted to rapidly shrink the U.S. military "footprint" in Iraq. But Bush and his neocon advisers saw that as effectively an admission of defeat, so they got rid of Rumsfeld and recruited the more malleable Gates to front for their planned escalation or "surge."

Not only did Consortiumnews.com spell out that reality in real time, but it also was explained by right-wing pundit Fred Barnes in the neocon Weekly Standard. As Barnes wrote, Gates "is not the point man for a boarding party of former national security officials from the elder President Bush's administration taking over defense and foreign policy in his son's administration. ... Rarely has the press gotten a story so wrong."
(Note: You can view every article as one long page if you sign up as an Advocate Member, or higher).