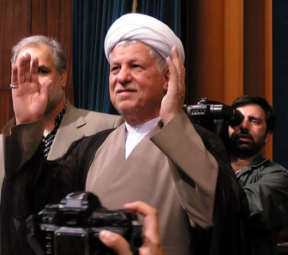 Is this man – Hashemi Rafsanjani, former two-term Iranian president
and power-broker – the target of Iranian election fraud? Image

June 15, 2009 – Washington, DC (electionfraudnews.com) – There most certainly was election fraud in Iran in this election and every previous election under the current electoral system. The question is not, did fraud take place in this most recent election? Of course it did. You just need to study the Iranian Constitution and recent Iranian elections understand that, a step skipped by the major media and some nay-saying bloggers in the United States.

The real questions are who or what was the target of the fraud and why?

The 2009 presidential election produced a 75% turnout, an alleged landslide victory for incumbent Mahmoud Ahmadinejad, and widespread protests by supporters of the losing candidates. It also produced a pervasive and violent crack down by Iranian authorities.

The reelection of Ahmadinejad is highly significant to Iranians and the rest of the world. Iran is a major oil supplier and a political actor of major proportions in the South Asia and the Middle East. Iran may joint the list of nations with nuclear weapons soon, it appears.

The most pressing current problem with Iran is posed by the nation's president who happens to be certifiably insane. He is a holocaust denier; not just once but every time he's asked. Ahmadinejad even hosted a world conference for other deniers. The existence of the holocaust is not a required issue for discussion by Iranian politicians. Ahmadinejad actually goes out of his way to showcase his break with reality. He's also continues the repellent acts of the death penalty for homosexuality and the application of the death penalty for capital crimes by children.

Yet he was approved once again by Iran's Guardian Council as a candidate for the nation's highest office. The council consists of six Islamic jurists appointed by the Supreme Leader of Iran and six from the Majlis, Iran's popularly elected parliament. They screen presidential candidates through background checks and a detailed written examination. Very few pass the test. Since 2004, the counci hasl routinely rejected reform candidates.

That's the fraud. It couldn't be more obvious.

The outcome of every election is determined by 12 men through the selection process that they devise. The choice of Iranian voters is determined before they ever get to the polling place. Candidates represent a very narrow spectrum defined by the 12. This process is supposed to accommodate the various major factions in the country to preserve civil order but the balancing act is entirely under the control of the guardian council.

The 2004 selection process by the guardian's is referred to as the silent coup by many Iranians. The selection of candidates for parliament was so biased against Iran's reform parties, many ended up boycotting the election. The boycott and lower turnout resulted in Ahmadinejad's election as president and a parliament stacked with his supporters. (Note on the use of "reformer" in Iranian politics)

The result of the 2009 election was too much to bear for supporters of the approved reform candidate, Mir Hossein Mousavi, a former president of Iran during the Iran-Iraq War. They've taken to the streets.

Demonstrators Prevail over Riot Police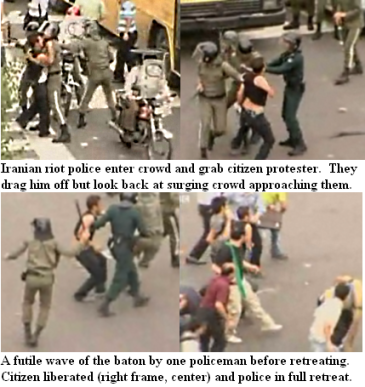 BBC, June 13, 2009
- Advertisement -
The losing candidate, reformer Mir-Hossein Mousavi, is reported missing. He supposedly has an account on Twitter. An Iranian web site published a letter it reported was meant for his followers. That web site is down at this moment. In the letter, Mousavi said:
The reported results of the 10th presidential Election are appalling. The people who witnessed the mixture of votes in long lineups know who they have voted for and observe the wizardry of I.R.I.B (State run TV and Radio) and election officials. Now more than ever before they want to know how and by which officials this game plan has been designed. I object fully to the current procedures and obvious and abundant deviations from law on the day of election and alert people to not surrender to this dangerous plot. Dishonesty and corruption of officials as we have seen will only result in weakening the pillars of the Islamic Republic of Iran and empowers lies and dictatorships.
I am obliged, due to my religious and national duties, to expose this dangerous plot and to explain its devastating effects on the future of Iran. I am concerned that the continuation of the current situation will transform all key members of this regime into fabulists in confrontation with the nation and seriously jeopardize them in this world and the next.